Tuesday, October 14th, 2014
It's been a while since I did a top ten list of….well, anything. So, here's what is on my To be Read list this year. Mostly for school, but I love reading middle grade and young adult fiction even if it's just for me. So here it goes: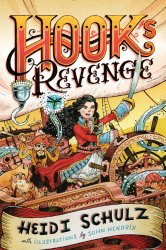 Hook's Revenge by Heidi Schulz
Middle grade fiction published by Disney-Hyperion
I've already started this funny tale about the Captain Hook's thirteen year old daughter, Jocelyn. She's sent away to boarding school by her grandfather so she can learn to be a lady. All she really wants is to be a swash-buckling, sword-wielding pirate. When she learns of her father's death, she sets off on a quest to avenge it.
I have started this book in my classroom and I love it. The kids laugh out loud and so do I. Jocelyn is a great character, as is her ally, Roger. It's a pleasure to read a book with a girl main character that the boys enjoy as well. It's got great pirate speak, a longing for adventure that kids will connect with, and memorable characters.
Hook's Revenge, Book 1 Hook's Revenge at Amazon.com
Hook's Revenge, Book 1 Hook's Revenge at Amazon.ca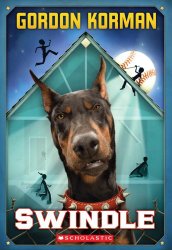 Swindle by Gordon Korman
Middle grade fiction published by Scholastic Press
Korman is always on my recommendation list during our library visits. When my eight year old brought Swindle home, I told her that I'd like to read it with her because I know a lot of kids who enjoyed it. During a sick day last week, she found the movie on Netflix. First, I didn't know there was a movie. Second, normally we would read the book first. But, we were feeling lazy so we decided to watch. The movie was very well done– it made my daughter laugh and it made me want to read the book even more.
When the character finds a vintage baseball card, he doesn't know the value and gets swindled by a pawn shop owner. The quest to get his card back is entertaining and funny. This book is on my list as a possible read aloud.
Swindle at Amazon.com
Swindle at Amazon.ca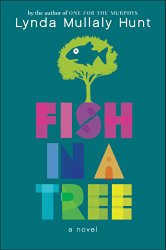 Fish in a Tree by Lynda Mullaly Hunt
Middle grade fiction published by Nancy Paulsen Books
There are several things that make me want to read this book. The author wrote one of my favourite books that I read last year: One for the Murphys. That alone makes me want to read more by her. When checking out the title on Goodreads, one of my favourite quotes was included in the write up: "Everybody is smart in different ways. But if you judge a fish by its ability to climb a tree, it will live its life believing it is stupid."
Then, when I read the summary, I thought: YES. Great topic. Ally has hidden the fact that she can't read from the people in her life and has successfully moved from one school to the next without anyone knowing. But when her newest teacher looks closer, past the trouble making side she presents, he finds her secret and helps her. We all learn in different ways and it's essential that we have books that show kids that it is okay to be different. It's okay to need help and not everyone learns in the same fashion. It's up to us, as the adults in their lives, to help them find their own road to success. I can't wait to read this one.
Fish in a Tree at Amazon.com
Fish In A Tree at Amazon.ca