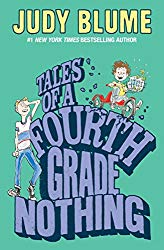 Tales of a Fourth Grade Nothing by Judy Blume
Series for middle grades published by Puffin Books
I have decided to try and read (or reread) as many of the School Library Journal Top 100 Children's Novels as possible. I have many of them in my home library and have read quite a few but this will give me a focussed reading list over the next while.
Yesterday, I read Judy Blume's Tales of a Fourth Grade Nothing
. It ranks forty-fourth on the list. First published in 1972, Tales of a Fourth Grade Nothing is the first in a series that features brothers Peter and Farley. Nobody calls Farley by his legal name, he is known simply as Fudge. Fudge is 2 1/2 years old and is a constant source of annoyance for Peter. He goes into Peter's bedroom and destroys a school project, he causes trouble at mealtime, he refuses to do what he is told. Peter is regularly asked to help adults "manage" Fudge and his antics.
Adults reading the book will be sympathetic to Fudge's mom and dad who surely must be at their wits' end, trying to parent Fudge with patience and love.
I have a lot of empathy for Peter. I am an older sibling and I can understand Peter's frustration with his much younger brother. I well-remember times when my younger sister annoyed me by taking over a gift or wanting to join in something that I was doing with my friends. I even remember her scrawling yellow crayon on our dining room wall, much to the frustration of our folks.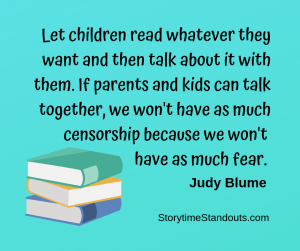 An easy read, and well-suited to readers at about a grade 3 or 4 level, I recommend this story of coping with a younger sibling as a fun read-aloud or a good introduction to the Fudge series for an independent reader.
A couple of notable items – in Chapter 3, when the children are headed to the park, Peter remarks, "Both my mother and my father are always warning me never to talk to strangers in the park because a lot of dope-pusher hang around there. But taking dope is even dumber than smoking, so nobody's going to hook me!" There are no further references to smoking or dope.
Also, some of the comments and characterizations seem sexist today, for example, "As far as I know my father can't cook anything. He doesn't even know where my mother keeps the peanut butter, the dishes. or the pots and pans."
Both of these entries provide opportunities to talk with children. On the one hand, Blume gives adults an opportunity to talk with children about safety in a park and illicit drug use. Likewise, there is an opportunity to discuss gender stereotypes and the division of labour in a family.
Tales of a Fourth Grade Nothing at Amazon.com
Tales of a Fourth Grade Nothing at Amazon.ca
Read Jody's post about Judy Blume's Freckle Juice here.