Meet Author Frieda Wishinsky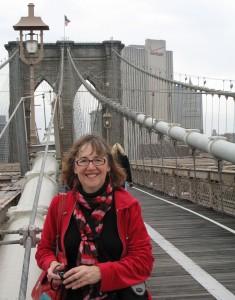 Frieda Wishinsky is the author of over sixty books. She writes picture books, chapter books, novels and non-fiction and is the author of the popular Canadian Flyer Adventures. Her books have been translated into many languages and have been nominated or won many awards internationally. JENNIFER JONES WON'T LEAVE ME ALONE won three English Children's Choice awards and PLEASE, LOUISE! won the prestigious Marilyn Baillie Picture Book Award. EACH ONE SPECIAL was nominated for the Governor General's Literary Award (Text) in 1998. Frieda loves speaking to kids and adults about the writing process and the joy of reading.
Author website
Author Facebook page
Ms. Wishinky's latest book is A HISTORY OF JUST ABOUT EVERYTHING, non-fiction for grades 3 and up. She co-wrote it with Elizabeth MacLeod.
Published by Kids Can Press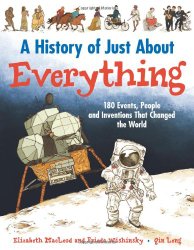 Tell us about your latest published children's book. Who do you think should read it? What are you most proud of?
My latest book, A HISTORY OF JUST ABOUT EVERYTHING was the biggest project I ever worked on and I didn't even write it alone. Elizabeth MacLeod and I co-wrote the book and luckily we had an excellent editor, Val Wyatt who helped us organize our huge topic. I think our approach is a dynamic way of presenting history. We show how everything is linked and how events from the past ripple forward. We wrote the book in a conversational, easy-to-understand and fast-paced style. Both kids and adults tell us they enjoy the book (and learn a lot along the way).
A History of Just About Everything at Amazon.com
A History of Just About Everything at Amazon.ca
If we were watching over your shoulder as you work on a book, what would we see? Where do you work? What does your writing / illustrating process look like?
I love writing in coffee shops. Maybe that's because I grew up in New York City and like the hum and buzz behind me as I write. I also write at home in my office overlooking tall evergreens but I'm most creative when I'm out. I write by hand with a pencil (hooray for erasers) and then transfer the text to the computer. I revise by hand and then it's back to the computer. I like to get feedback for my work and ask wise, honest yet supportive readers for their comments. Then I listen to what they say. I may not use everything, or change everything but I listen.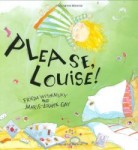 What are the joys of being an author? What do you derive your greatest pleasure from?
I love hearing, reading and making up stories. Stories keep us connected to each other, help us through tough times and let us know that we're not alone. I enjoy writing in many genres, although I especially love picture books. It's an exciting challenge to say so much in so few words. I believe that the best picture books are for readers of any age. (I read picture books all the time)
I also believe that non-fiction should be presented as a story. After all, history is the story of everyone's past.
I have fun visiting schools, meeting teachers and librarians and my fellow authors. Book people are wonderful!
Have any of your books been published electronically? If so, what was that process like? What sort of feedback have you had from readers?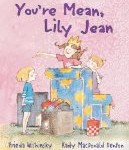 A bunch of my books have been published electronically, especially my Orca titles. I find I still sell way more books the old fashioned paper way. Maybe it's the genre I write in. I don't know.
If you could dine with any author/illustrator (alive or dead), who would you choose and why?
Top of my list would be my dear friend, Phoebe Gilman. I wish she were here to talk to and share work with again. I miss her. She always had insightful yet supportive comments. And I would have loved to meet William Steig. I love that he began writing kids books late in life. His writing and art are funny and so "true".
Our reviews of some of Ms. Wishinky's books:
Canadian Flyer Adventure Series
You're Mean, Lily Jean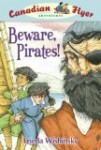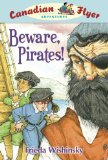 Do you do school or library presentations?
I do many school, library and conference presentations all over Canada and beyond. I love sharing writing ideas and books with kids and adults. My background in teaching and educational writing has been invaluable in connecting with kids, teachers and the curriculum. My talks are lively, interactive and curriculum-linked.
I've also taught writing workshops and courses for kids and adults and offer one-to-one manuscript evaluations.