Twists in Measle and the Wrathmonk Will Engage Reluctant Readers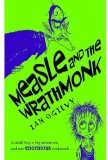 Measle and the Wrathmonk written by Ian Ogilvy
Chapter book for middle grade and reluctant readers published by Oxford University Press
Measle and the Wrathmonk is one of my new favourite chapter book series for middle grade readers. Ten year old Measle lives a deplorable life. He is hungry most of the time, he is fifthy and lives in a wretched house with a menacing guardian. He has been told that his parents were killed by a snake but Measle is unconvinced and hopes he will be reunited one day.
Although the set up of Measle and the Wrathmonk seems all too familiar (orphaned child, deplorable conditions), Ogilvy creates unexpected and exciting twists and turns that are sure to engage young readers. Measle is a winner and well worth trying with reluctant readers. Additional books in the series include Measle and the Dragodon, Measle and the Mallockee.
Lexile Level – 900L
Measle and the Wrathmonk at Amazon.com
Measle and the Wrathmonk at Amazon.ca
Visit our page about reluctant readers for more information.