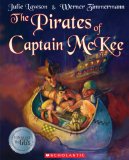 The Pirates of Captain McKee! written by Julie Lawson and illustrated by Werner Zimmermann
Picture book published by Scholastic Canada
Originally published as Whatever You Do, Don't Go Near that Canoe, The Pirates of Captain McKee is a rollicking adventure story that will have broad appeal to young children, especially those who love pirates.
A nominee for The 1996 Canada Council for the Arts Governor General's Literacy Award for illustration, The Pirates of Captain McKee tells the story of two children, a brother and sister, who are warned not to go near a canoe. The warning, given by Captain Kelsey McKee, is accompanied by a wink so the children are undeterred. They don lifejackets and climb into the canoe. Before long they find themselves well away from the dock.
Through fast-running currents, through slow-rolling tides,
Far into the fading light,
Through sun flecks and sunset, through dusk's purple haze,
The canoe sped into the night.
Although returning to the safety of home seems a great idea, the children are not in control. The magical canoe is deciding their course. Just before dawn, the canoe and the children approach a pirate ship at anchor and many, many intimidating pirates onshore. The pirates recognize the canoe and decide to teach the children a lesson. Frightened about their predicament, the children fear the worst until they notice a "marvellous smell… There's marshmallows roasting round here!"
Gorgeous illustrations and delightful rhyming text make this a wonderful read aloud for children aged four and up.
To extend the read aloud experience –

Writing paper for kids - Pirate

Pirate theme interlined paper for beginning writers.

Writing paper for kids - Pirate Map

Pirate theme interlined paper for beginning writers.
The Pirates of Captain McKee at Amazon.com
The Pirates of Captain McKee at Amazon.ca