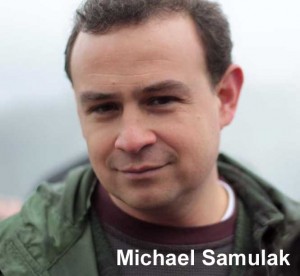 Michael Samulak has almost twenty years of experience teaching, mentoring, and engaging youth both in and outside of the classroom. Mr. Samulak visits schools, learning centers, and daycares to read and present his stories and world adventures. His goal is to inspire youth to dream big. Michael's teaching and classroom experience help him to fill his award-winning picture books with fun opportunities for learning.
Michael resides in the City of Cleveland, Ohio with his wife and four children.
He earned his Bachelor's degree in Elementary Education from Michigan State University ('96) and finished his Master's in Education at Cleveland State University ('12). He has been working as a full-time youth minister and educator for close to 20 years.
Tell us about your latest published children's book. Who do you think should read it? What are you most proud of?
A Wonderful Day!
is my latest picture book about going to the zoo. This is actually my first traditionally published title and I am so excited to be able to share it with everyone! It is an early reader, great for emerging readers, or those who are working toward fluency and need that extra support from a fun book that can reinforce those early sight words and phonics skills that they have been working on.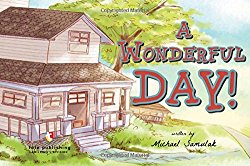 I generally recommend a target audience to be 3-6 years old, but as many of the educators and parents will tell you, this totally depends on your reader. My nephew is 2 and he loves to make all the animal sounds as he flips excitedly through the pages. My brother sent me a picture of him sneaking a read after he had "thought" he put him to bed. He was "reading" under the covers, flashlight and all. I couldn't have been more happy to see someone getting that kind of joy from one of my books.
I am probably most proud of the way the book has been put together with little learning moments laced throughout the manuscript. Besides being written with a gender-neutral text, you also have a good amount of questions and statements that can be thought-provoking and interactive. This kind of anticipatory exercise is very important for young readers as they are learning and beginning to understand that text has meaning. I love that the book helps young readers make text-to-self-reflections; putting their own experiences and prior knowledge front and center while reading in order to develop and expand the whole experience of reading. We all do this as accomplished readers, and generally forget that somewhere along the line we were helped to understand and realize that reading is so much more than decoding and applying the known rules of phonics.
A Wonderful Day! was recently Awarded the Gold Medal for Children's Picture Books (Animals) by the Mom's Choice Awards.
A Wonderful Day! at Amazon.com
A Wonderful Day! at Amazon.ca
When did you realize that you would be a writer? Is there a particular person who has inspired and/or supported your work along the way?
This would have to be when I would ask my mom if I could stay home from Jr. High school, maybe about 6th or 7th grade so I could keep working on my first chapter book.
I think that it is safe to say that I still consider myself to be a work-in-progress, and so it is crazy to think that my books can now be found in libraries, schools, and peoples' homes.
For those still-aspiring writers I always have the same words, "Don't ever give up!" That choice has a guaranteed outcome. Don't stop. Keep going, keep writing, keep up the inquiring: There is story that you have that the world needs to read. Keep putting yourself and your work out there and it will happen, even if it seems that things are tough or impossible, as long as you are moving and working on your dream, something can happen.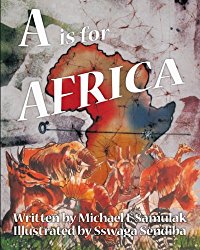 If we were watching over your shoulder as you work on a book, what would we see? Where do you work? What does your writing process look like?

Generally speaking, one of my five children climbing on my back or sitting in my lap. Don't get me wrong; I love all of the kids. They are a big source of inspirations for many of my books, so I can't complain, but finding that quality, uninterrupted time is tough.
I am always writing, or at least thinking about writing. My note app on my phone is filled with bits and pieces, lines, thoughts: unpublished titles, I'm always trying to think of what may be a good title for a book. I think that has replaced a lot of my early days of notebooks, scrap paper, napkins from a dinner table, whatever was there really: Crayon, pencil, that piece of fruit my daughter had finished with…whatever worked to get that word down before it was gone. I'm sure some out there can relate.
I suppose once it is time put all of those bits and pieces into something "final" that I then print out or send to an actual human being, my laptop and a local coffee shop are where I land. But, the process, yeah, that's a lot messy for me.
Tell us about your experiences sharing your book with children. Has anything unusual / endearing / funny / unexpected happened?
What hasn't happened? Tears, fears, in appropriate laughing; farting, burping, teasing, and a lot of smiles and wide-eye stares that keep me coming back for more.
I love reading my work and interacting with the children at schools and learning centers the most. I think it is the father and educator parts of me. I have come to expect the unexpected and it is this color and variety of the trip that make it so worthwhile.
If I had to pick one particular event I am particularly found of, it would be that one I often remember this one time when I visited one schools and one of the students in the sea of faces piped up matter-of-factly after I held up my book, "Hey! I have that book at home! I love that book! Oh Boy!, this is gonna be awesome." I had to take a moment to hold back the tears on that one. It was one of the first times that I really felt accomplished as an author: Like my dreams of being able to write for children were coming true.
How do you stay connected with your readers? Have you gone on book tours? Do you engage on social media or through a website? Do you visit classrooms, libraries or bookstores?
Everything goes when it comes to connecting, networking, and staying engaged with readers. So, yes to all!
I love to network and feel that it is so important to staying relevant to my audience. I often will bring "finished" works to the schools and classrooms that I visit to get fresh feed back from the audience that I feel matters most – the one that I am writing for. I try to stay active on social media platforms, but since I write for a younger audience, like, they aren't quite there yet when it comes to literacy fluency, let alone responding to a FaceBook post; I generally am reaching out and interacting with parents, other writers, educators, etc. on those platforms. With that in mind, I am generally looking for opportunities related to a visit or to network, or generally showing off my beautiful family and our recent life adventures together.
What are the biggest challenges of being an author?
Juggling work, family, wife, kids — oh yeah, and then there is writing. I would have to say time – quality time to get to the end part of that process of writing in order to cross that finished line where an actual tangible piece is produced that then can be reworked, critiqued, rejected, reworked again…really, do I need to go on.
I know others may have other struggles, and I'm not at all saying that those aren't real or deep, but for myself it would have to be finding the time to "gett'er done".
"Just keep swimming" often does become my own encouraging theme song on those days when I feel like throwing in the towel. And so I try to just keep moving, even if it is just one sentence or phrase that I can work on; not even finish per say, but to mark progress. Yes, seeing progress helps to keep me going and eventually cross that finish line.
When I go to schools or libraries I love to read my picture books and share my inspirations and experiences that they are based on. Generally speaking, this makes for great laughs as I share my adventures with my children. I also have brought back some native items from Africa and do a sort of "Show and Tell". The kids love to see and feel these native artifacts. The African Drum is usually the biggest "hit".