Family Diversity
Picture Books to Celebrate Family Diversity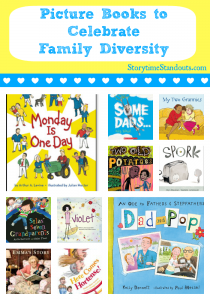 Children's books about family diversity belong on every bookshelf. Here, we highlight picture books about all sorts of families including single-parent families, blended families, same-sex parents and families formed through adoption.
Elsewhere on this site ~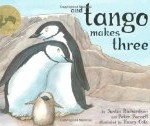 And Tango Makes Three written by Justin Richardson and Peter Parnell and illustrated by Henry Cole
Picture book about family diversity including same-sex parents published by Simon and Schuster Children's Publishing
Roy and Silo are male chinstrap penguins at New York's Central Park Zoo. They love each other very much and make a nest together. Sadly, Roy and Silo do not have an egg to keep warm. One day their keeper decides to give them an egg that needs protection. Many days pass, Roy and Silo attend conscientiously to the precious egg. At long last the shell cracks and baby Tango arrives. Together, Roy and Silo become fathers. Based on true events, And Tango Makes Three is charming and thoughtful.
Highly recommended and best suited for children aged 4-8.
And Tango Makes Three is on the American Library Association 2008 Rainbow Book List.
And Tango Makes Three at Amazon.com
And Tango Makes Three at Amazon.ca
---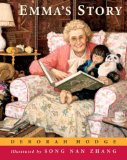 Emma's Story written by Deborah Hodge and illustrated by Song Nan Zhang
Picture book about families and international adoption published by Tundra Books
Emma and her brother are baking cookies at Grandma's house. They use cookie cutters to make a sweet cookie family and then decorate the tasty treats with candies and dried fruit. When Grandma lifts the cookie tray out of the oven, she admires the cookie family but Emma is surprised to see the cookie that Sam has decorated.
Sam had used raisins and strings of licorice to decorate the Emma cookie. Big tears rolled down Emma's cheeks. "I want to look like everyone else," she said.
Emma's sadness prompts Grandma to cuddle with her in a comfortable chair. She opens a photo album and tells her granddaughter's story.
This is a story that Emma has heard before. In fact, she helps Grandma to tell the story properly. It seems that Mommy, Daddy, Sam and their dog Marley were very happy but they longed for a baby girl. They waited and waited for a little girl to arrive. Finally, they heard about a baby girl in China who needed a family.
Emma's Story tells of the family's excited preparations followed by Mommy and Daddy's long trip to meet Emma. We witness the new family's first night and day together and their trip home to Canada. A large crowd meets the threesome at the airport and joyfully celebrate's Emma's arrival.
Emma has heard her story "a million times" and she is reassured by Grandma's words,
It's not how we look that makes us a family, Emma. It's how we love each other," said Grandma.
"And we love each other a lot!" said Emma.
While perhaps not meant for every bookshelf, Emma's Story offers a very reassuring message and one that bears repeating. Just as Emma likes to hear her story and be comforted by it, children who share the international adoption experience will be similarly reassured by this book.
Detailed illustrations enhance Emma's Story, especially when showing facial expressions.
---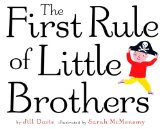 The First Rule of Little Brothers written by Jill Davis, illustrated by Sarah McMenemy
Picture book about siblings published by Knopf Books for Young Readers
Oh dear, life can be awfully complicated when a younger brother or sister arrives on the scene. Before long, favourite toys are grabbed, tall towers are destroyed and 'me too' is an oft-heard phrase. For older children who are learning to get along with a little brother or sister, this picture book will ring true and inject some humor and insight into the experience.
One day I built the Empire State Building with blocks. It was huge! Taller than me! Then Bro-zilla walked into the room. CRASH!
Bright, colorful illustrations depict the two boys as they grow up. Good fun!
The First Rule of Little Brothers at Amazon.com
The First Rule of Little Brothers at Amazon.ca
---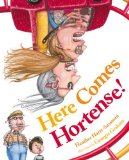 Here Comes Hortense! written by Heather Hartt-Sussman and illustrated by Georgia Graham
Picture book about jealousy, emotions and blended families, published by Tundra Books
When a six-year-old boy, his grandmother and her new husband go on vacation to a theme park, all is well until Hortense arrives. Hortense is Bob's granddaughter and she is suddenly a threat. Nana shares her hotel room with Hortense, she sings "Lavender's Blue" to her and she sits next to her for all the scary rides. To add insult to injury, Hortense even devises a special name for Nana!
Nana's grandson is despondent. He can't believe that Hortense has taken his special place with his grandmother.
It is not until Nana and Gramps take a ride in the Tunnel of Love that the two children are able to gain perspective and learn to like each other.
Note: Here Comes Hortense! is a follow up to Heather Hartt-Sussman and Georgia Graham's picture book titled Nana's Getting Married
Here Comes Hortense! at Amazon.com
Here Comes Hortense! at Amazon.ca
---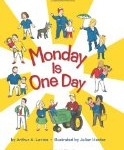 Monday is One Day – written by Arthur A. Levine and illustrated by Julian Hector
Picture book about family diversity including same- sex parents, single-parent families published by Scholastic
Monday through Sunday,
the whole week through,
each day I count the ways
I love to be with you!
Monday is One Day shows young readers that it is not easy to go to work especially when earning a living means spending time away from those we love. Illustrations depict family diversity including one parent, two-parent, young parents and old, living in rural, city and suburban homes. The message of unconditional love flows beautifully throughout Monday is One Day and it is lovely to see all the families enjoy leisure time together on Saturday and Sunday.
Monday is One Day at Amazon.com
Monday is One Day at Amazon.ca
---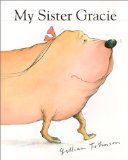 My Sister Gracie Written and illustrated by Gillian Johnson
Picture book about family diversity including adoption published by Tundra Books
Fabio, an "only" dog, longs for a brother. He dreams of exploring a park, sharing a bone and playing together with his new buddy. Imagine Fabio's surprise when his new brother is a sister – and not at all like the playful puppy he envisioned. Thankfully, teasing neighbourhood dogs help Fabio appreciate and love his newly adopted sister, Gracie.
32 pages, recommended for children aged 3 to 5

My Sister Gracie at Amazon.com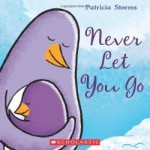 Never Let You Go written and illustrated by Patricia Storms
Picture book celebrating love between an adult and a child published by Scholastic Canada
I'll be honest, I completely underestimated Never Let You Go when I first viewed the cover art. I assumed (wrongly) that it would be a treacly story about a mother's love for her child. When I took time to carefully read the story and appreciate the playful illustrations, I discovered that this is indeed a special picture book that will be treasured by children and their adult caregivers.
Readers may assume that Never Let You Go is about a mother's love for her child but one could argue that it could also be interpreted as a portrayal of a father's love or a grandparent's love. The beauty of the author's words is that the affection shared by the adult penguin and the young penguin makes no reference to gender or relationship. The story will 'work' for Mother's Day or Father's Day. It will work for single-parent families or families where the primary caregiver is not a parent.
Initially, the adult penguin reassures the youngster, I will care for you, and treasure you always. And I will never let you go. But soon we discover, there will be times when the adult will give the child space to safely explore the world and gain independence. The adult won't be there when nature calls or if the child is quietly working on a project. With humor, we discover that the adult prefers to grant space when the child has a tantrum and that the adult prefers to visit with other adults while the boisterous young friends play together nearby.
Recommended for children aged three years and up, bright, bold illustrations and breezy, affirming text make this a great read-aloud for small groups.
Never Let You Go at Amazon.com
---

Pink – written by Nan Gregory and illustrated by Luc Melanson
Picture book about jealousy, emotions and wanting what others have published by Groundwood Books
We've all seen them, "The Pinks," Vivi calls them, but not out loud. Every day at school they parade their glory – from hair bows to tippy toes, every shade of perfect pink."
Poor Vivi would love to be just like "The Pinks." Her rather ordinary world is not at all pink. She lives, with her blue-collar parents and her baby brother, in a brown working-class world that leaves her yearning. Her parents are not unaware of her desire to be a "Pink," they have had their share of disappointments but they have found ways to accept and live within their means.
One day, when Vivi is running an errand for her mom, she discovers the ultimate pink treasure. She sees a beautiful doll, dressed in a cascading pink bridal gown. It is displayed prominently in the window of an exclusive neighbourhood shop. Vivi feels she must have it so she does chores and small jobs all winter to earn money. She saves and saves in order to buy the beautiful doll. She is certain that having the spectacular doll will enable her to live like the wealthy "Pink" girls she sees at school.
Pink is a marvelous story that is both poignant and thoughtful. Vivi wants so much to be a "Pink" and her young heart is filled to bursting with desire for the doll. When Vivi witnesses one of the "Pinks" leaving the store with "her" doll, she is heartbroken but ultimately enriched by the experience.
It would have been so easy to create a magical happy ending and have Vivi's world become a pink one. Thankfully, Ms. Gregory understands that life is not always fair and that if we take time to look, beauty (and especially pink) is all around us. When sharing this thoughtful story with a child, be sure to take note of Mr. Melanson's illustrations and especially his masterful depictions of Vivi's emotions.
Very highly recommended, for children four and up.
Pink is on the 2010 American Library Association Rainbow Book List.
---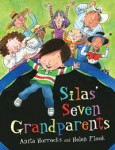 Silas' Seven Grandparents written by Anita Horrocks and illustrated by Helen Flook
Picture book about family diversity published by Orca Book Publishers
Silas loves his seven grandparents and their enthusiasm for his activities and interests. Silas enjoys going on fun outings with his grandparents and appreciates their gifts. When his mom and dad go away on a business trip, Silas is invited to stay with his grandparents. His mom wants him to choose where to stay but it is not an easy decision. Lying awake on a moonlit night, Silas reaches a decision: he invites each of his grandparents to come and stay with him. Acrylic ink illustrations nicely match this happy story of life with seven grandparents.
Silas' Seven Grandparents at Amazon.com
Silas' Seven Grandparents at Amazon.ca
---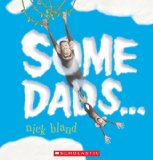 Some Dads… written and illustrated by Nick Bland
Picture book about fathers published by Scholastic
In his cheery tribute to fathers, Nick Bland depicts all sorts of animal parents exuberantly interacting with their offspring. We laugh at an over-protective elephant papa who fills a swimming pool with life rings and a mischievous sheep who can't resist throwing a water balloon at his child. Readers, both young and old, will enjoy the playful rhyming and the jubilant illustrations. Some Dads… is an excellent choice for Father's Day or Dads' Day at preschool, delivering a fun and affectionate message about diversity and unconditional love.
Some dads like strolling.
And some dads rock'n rolling.
And some dads just love the outdoors.
Well suited to children aged two and up.
---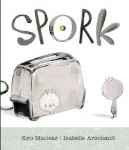 Spork written by Kyo Maclear and illustrated by Isabelle Arsenault
Metaphorical picture book about an interracial family and tolerance published by Kids Can Press
"Spork was neither spoon nor fork…but a bit of both." Offering a refreshing and original celebration of individuality,
Spork is a thoughtful yet fun look at a youngster who doesn't look quite like mum or dad. In Spork's kitchen abode, there are forks, knives and spoons – they each know their places and 'mixing' is quite rare. Sparkling illustrations and clever writing encourage the reader to feel empathy for a different sort of kitchen utensil who aspires to be spoonish or forkish but can't quite manage either.
When The Messy One is plunked in a nearby highchair one day, needing something a little different, there is no better tool for the task at hand.
Very good fun, will be enjoyed by utensils of every colour, size and shape, aged four and up.
---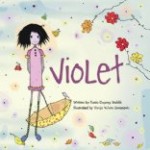 Violet – written by Tania Duprey Stehlik, illustrated by Vanja Vuleta Jovanovic
Picture book about an interracial family and tolerance published by Second Story Press
When Violet attends her first day at a new school, she meets red, yellow and blue children but she doesn't see any purple children. Upon returning home, her mother explains, "I am red and daddy is blue and you, my beauty, are a bit of us both." Together, they play with paints and discover that many beautiful colours are created through mixing. Simply told, Violet is a lovely story about an interracial family. It reminds us of the richness and splendor of a diverse community.
---
Follow Storytime Standouts' board Families in Picture Books on Pinterest.