15 Awesome Printable Alphabets Plus Games for Teaching Letters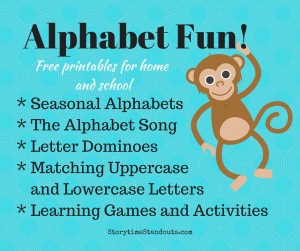 We are delighted to share 15 free printable alphabets and alphabet activities for homeschool, preschool and kindergarten
We use these free printable alphabets in our Getting Ready to Read program for four and five year olds. The PDF printables can be used to create alphabet memory or matching games. Some of them can also be used to enhance bulletin boards.

At the bottom of this page, you will find a Consonant Game Board and also an Uppercase and Lowercase letter matching activity.
When I use these alphabet printables, I print them onto cardstock
and then use my cool laminator
to protect the letter learning activities. In this case, I used yellow cardstock and Stickopotamus Stickers
to decorate the Uppercase and Lowercase Letter Match.
Click on these links to check out our other alphabet resources
Free Printable Seasonal Alphabets for Preschool and Kindergarten
Free Printable Alphabet Song and Free Alphabet Learning Games for Preschool and Kindergarten
Our Most Popular Alphabet Posts for Preschool and Kindergarten
Our Pinterest Alphabet Craft Board
Our Free Alphabet Printables for Homeschool, Preschool and Kindergarten
Step 1 – Make sure you have Adobe Reader. If you don't have it, please click on the 'Get Adobe Reader' button to install it for free.



Step 2 – Pin this page, bookmark this page, share this page or "Like" us on Facebook.
Step 3 – Choose from any of our 250 free downloads, including these free printable alphabets.


Assorted Free Printable Alphabets for Homeschool, Preschool and Kindergarten

A Colourful Alphabet

Free printable alphabet uses bright colours for each letter.

A Brush Stroke Alphabet

A printable brush stroke alphabet - great for children who are learning letters. This alphabet can be used in a variety of ways: create an alphabet 'strip' or cut the letters apart, mix and then put in ABC order. Or, print two sets, cut apart and create an alphabet memory/matching game.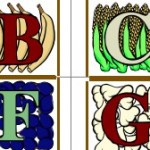 A Caveman Alphabet

Free printable alphabet features a fun caveman for each letter.

A Fruit and Vegetables Alphabet

Free printable alphabet features a fruit or vegetable for each letter.

A Marching Alphabet

A free, printable marching-theme alphabet for preschool, homeschool, kindergarten.

Upper and Lower Case Illustrated Alphabet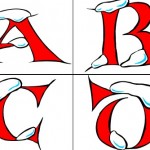 Free Printable Seasonal-Theme Alphabets

A Fall Leaves Alphabet

Attractive free alphabet printable features multi coloured Fall leaves

A Winter Alphabet

Free printable wintertime theme letters for preschool or kindergarten

A Christmas Alphabet

An attractive free printable Christmas-theme alphabet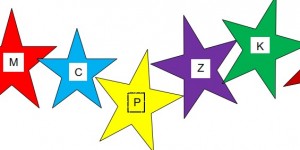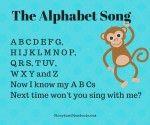 Alphabet Learning Games and Free Printable Alphabet Song

The Alphabet Song

Free printable lyrics for The Alphabet Song

Alphabet Dominos

Helping children learn alphabetical order. Free printable dominos let kids match upper case letters to lower case letters.

Consonant Game Board

Use a die and markers, move along the "star" path from one star to another. When you land on a star, say the letter name or say the letter sound or say a word that starts with the letter.

Animal / Alphabet Match

Free printable animal-theme alphabet for preschool and kindergarten.

Match Upper and Lower Case Letters Part One

Use with Part Two to create a matching activity

Match Upper and Lower Case Letters Part Two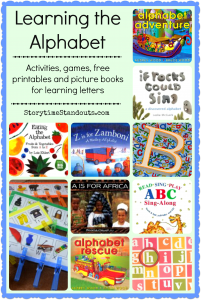 Some of our Most Popular Alphabet Recognition Posts
Hover over the photo for a description of the activity. Click on the photo to read the full post
We invite you to follow Storytime Standouts' Alphabet Craft Board on Pinterest
Follow Storytime Standouts's board Alphabet Crafts on Pinterest.