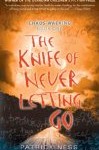 The Knife of Never Letting Go written by Patrick Ness
Young Adult Fiction published by Walker Books
Prentisstown isn't like other towns. Everyone can hear everyone else's thoughts in a never ending stream of noise. One month away from the birthday that will make him a man, Todd and his dog Manchee stumble upon an area of complete silence. They find that, in a town where privacy is impossible, a secret has been hidden, one so awful that Todd and Manchee must run for their lives. But how do you escape when your pursuers can hear your every thought?
This is the first book in the Chaos Walking series. And I thought it was so good that I cannot wait to read the second book. The book keeps you guessing all the way through. It is very fast paced and I like that the author broke the book up into parts so that there are multiple climaxes through out, leading up to the big one at the end. As a series opener it was very promising and I think it will appeal to almost all readers, especially if you like adventure, mystery or science fiction. The Knife of Never Letting Go is one of the best books I have read in recent weeks, shaping what is probably going to become one of my favorite series.
Guardian Children's Fiction Prize (2008)
Odyssey Award for Excellence in Audiobook Production Honor (2011)
James Tiptree Jr. Award (2008)
The Knife of Never Letting Go: Chaos Walking: Book One at Amazon.com
The Knife of Never Letting Go: Chaos Walking: Book One at Amazon.ca