The Runaway King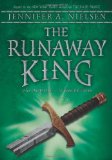 The Runaway King written by Jennifer A. Nielsen
Chapter book for middle grade readers published by Scholastic
There are some books that change you. Some books that no matter how many books you read after, they will always stand out. The False Prince was one of these. When an artist– song writer, author, movie maker– puts out something incredible, there's always the skepticism that the follow up cannot possibly surpass the greatness of the original. That's why Oceans 11 is awesome and Oceans 13…not so much. This is completely not the case with Jennifer A Nielsen's series. I read the False Prince because Carolyn recommended it so highly and I always want books that will engage the students, especially those reluctant readers. It was every bit as good as Carolyn had said. The students decided that we absolutely must read The Runaway King immediately after. I gave them other choices (all the while wanting them to choose The Runaway King) but it was a unanimous decision–we needed to know what happened to Sage/Jaron.
We fell into The Runaway King so far that we may or may not have skipped a few math lessons. When students are telling you: "We will work extra hard if you just read us one more chapter", it is really difficult to say no. So I didn't. And today we finished the book. We were all excited because yesterday we looked at the Scholastic order and saw that The Shadow Throne (the third in the trilogy) is now out. When we finished today, I immediately said, I will order the next one today. One of the students, who can often be hard to engage, said, "Can you order it right now so you don't forget?" That– is what a book should do. It should make you forget that other things exist, keep you on the edge of your seat, root for, cry with, and grieve with the characters as though they are your friends.That's what The Runaway King does.
At the end of The False Prince, Jaron has accepted his title as King of Carthya. We know more is coming but it was a good wrap up to the wonderful story of how Jaron made it back to the throne. The Runaway King not only showed a maturing of our main character, it expected the reader to mature as well. The stakes, the intrigue, the deception, the pace, and the connection deepened in this book to an amazing degree. I am always in complete awe of writers that can pull you this far into a story, write in a way that makes you think there is absolutely no way for the character to come out of the hole they are in, but then, in the most unexpected and beautiful ways, the story goes where it obviously meant to. Nielsen is an incredibly gifted story teller. She manages to show an understanding of the insecurity and uncertainty that a normal fourteen year old boy would feel after losing his family and compounds it with the immense weight that is put on Jaron's shoulders. He must fight not only the people that want to take Carthya from him, but people that are supposed to be his loyal supporters and subjects. The very interesting thing to me is that the kids are usually wary of any love interest at this age (you get a lot of 'ews' from grade fives if there are any mushy scenes) but the friendship that forms between Imogen and Jaron is so much more than just your typical boy likes girl, girl likes boy, they can't be together story. Imogen is Jaron's person. So you root for him to be with her (or I did- the students probably enjoyed the dueling with pirates more than anything) but then there's Araminda, the betrothed princess. In many stories, it's easy to choose: I want the character to choose X. It's not cut and dry for Jaron though because Nielsen does such a wonderful job creating likable characters that we can't dislike Araminda any more than we can help like Imogen. She has the rare ability to make you like a character you were sure you hated.
This story has everything: friendship, heartbreak, action, bravery, suspense, love, betrayal. Sage/Jaron is one of the best characters I've ever known. He is funny, humble, frustrating, and honorable. He is the flawed protagonist that anyone who is a writer wishes they could write. He is a King but the kids can see themselves in him– in his choices and his hardships, in the loyalty he has to his friends and the loneliness that often swamps him. There are no dragons or wizards, underworlds, demigods, or alternate universes, but still, this book was completely magical.
The Runaway King: Book 2 of the Ascendance Trilogy at Amazon.com
The Runaway King: Book 2 of the Ascendance Trilogy Amazon.ca
SPOILER ALERT – do not watch unless you have already read The False Prince