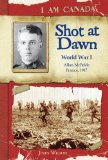 Shot at Dawn by John Wilson
Published by Scholastic Canada
I Am Canada: Shot at Dawn is the intense, thrilling and tragic story of Allan McBride, a young Canadian who, during World War I, wanted to follow in the footsteps of his childhood hero and friend, Ken Harrison. Whilst growing up together on Vancouver Island, McBride and Harrison had enjoyed many childhood adventures. Just seventeen and very naive, McBride is certain that joining his friend on a World War I battlefield in France will lead to further pleasurable escapades. Harrison, who has already experienced the horrors of combat, is not at all enthusiastic about McBride's enlistment and subsequent arrival in France. Eventually, at McBride's insistence, the two go to battle together. The horrors of World War I trench warfare are too much for both men. Harrison is shot and presumed to have been killed. McBride suffers shell-shock and, while confused and delusional, leaves his unit. He intends to walk home. Eventually, after finding other fugitives in a forested area, he hides until he is taken into custody by his childhood friend. Clearly unwell, McBride is accused of desertion. While awaiting dawn arrival of an the executioner, Allan McBride describes his horrifying experiences in the trenches near Amiens, France.
Although the I Am Canada series is suggested for nine to twelve year olds, be advised that Shot at Dawn depicts the grim reality of trench warfare. Although fascinating, it may be disturbing to some readers.
Update June 18, 2012, Shot at Dawn is nominated for the Geoffrey Bilson Award For Historical Fiction For Young People
The I Am Canada series website includes discussion guides, book excerpts, activities and video clips.
Shot at Dawn: World War I at Amazon.com
Shot at Dawn: World War I at Amazon.ca