Anti bullying story for beginning readers – Justin and the Bully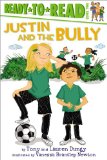 Justin and the Bully written by Tony and Lauren Dungy, illustrated by Vanessa Brantley Newton
Anti bullying story for beginning readers published by Simon Spotlight
Justin loves to play soccer and he is very excited when his mom agrees to sign him up for a team. His family shares his excitement and all is well until he goes to his first practice. When he gets to practice, he likes his coach and most of his teammates. He is disappointed when one of his teammates, Taylor calls him "Shorty" and criticizes his playing ability.
After practice, Justin is quiet and at dinnertime he announces that he doesn't want to continue playing soccer. After a family discussion, Justin explains that Taylor told him he was too short to play.
At bedtime, Justin's parents encourage him to try again. The following day, Justin's mom accompanies him to practice and she speaks with the coach about the situation.
The coach called the team together. "We are a team," he said. "Right?"
Everyone said, "Right, Coach!"
"And on a good team there are no bullies. Right?"
"Right, Coach!" everybody said.
Coach Harris goes on to ask "What is a bully?" and the children provide examples of bullying behavior.
The next weekend, the team plays its first game. The children work together and are successful until an unpleasant comment is made by Taylor. One of Justin's teammates speaks up and tells Taylor that she is behaving like a bully.
Justin and the Bully is part of Simon Spotlight's Ready to Read series. It is rated Level Two and includes both sight words and words that children will sound out. The story itself is compelling and the solution is realistic. It is noteable that the child who is being bullied is assisted by his parents and his coach. The situation is resolved when a bystander notices the bullying and speaks up about the bullying behavior.
Add this anti bullying book for beginning readers to your bookshelf –
Justin and the Bully (Ready-to-Read. Level 2) at Amazon.com
Justin and the Bully (Ready-to-Read, Level 2) at Amazon.ca