Forever Four is fantastic for tween and middle grade readers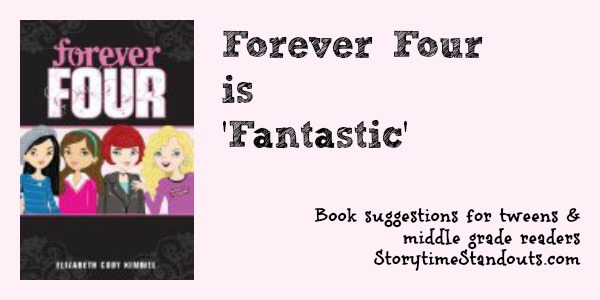 Forever Four written by Elizabeth Cody Kimmel
Part of the Forever Four series for middle grade readers/tweens published by Grosset & Dunlap, an Imprint of Penguin
More book suggestions for middle grade readers
I'm always equal parts wary and excited to start a new kids novel. Will I like it? Will my ten year old? Will my class? What messages are there and how can I tie it into curriculum? Sometimes, I read novels specifically to enhance curriculum but many times, I read for the pleasure of reading with my kids and find myself entranced. Children's books are a hidden treasure that we think we outgrow in adult hood but we don't. There's no way to outgrow strong characters that you connect with, make you laugh, and find themselves in relatable situations.
The novel that my daughter and I read this summer (in the few moments she wasn't reading Harry Potter) was Forever Four by Elizabeth Cody Kimmel. It was delightful for several reasons. First, it spanned a collection of cliques that exist in school and in life. The cool girl, the new girl, the slightly annoying/dorky girl, and the girl that doesn't know how to label herself. The main character in this story, Paulina, is the one trying to figure herself out. She's easy to connect to and the relationship she has with her younger brother, Kevin, is really a pleasure to see. So often, we see sibling rivalry and anger but in this book, Paulina pitches in while her psychologist mom is busy and affects Kevin's life in a positive and realistic way. Their exchanges are very sibling like but Paulina's soft spot for her brother makes me think of how I want my girls to connect with and rely on each other.
The four girls are thrown together for a competition that each of them wanted to win on their own. The task is to create a school magazine that speaks to the student body. The winning group will receive money for a school club of their choice. Tally, with her funny accent and bubbly ways, is a bit overwhelming for the girls in the group, but sweet nonetheless. Miko, who I will return to later, is the popular allstar that everyone envies. Her group the PQuits (Prom Queens In Training) is both revered and feared. Ivy is the new girl from New York that wants friends but isn't willing to change who she is to make them.
The story is about the challenges they face individually and as a group as they work on the contest. It's about first impressions, second impressions, and having an open mind. It's about realizing that there's more to all of us than meets the eye. Miko impressed me most because she starts as the typical, "too-cool" girl and what she reveals about herself (I won't spoil it) humbles your previous judgement.
Perhaps the best thing about the story, to me, as a mom and a teacher, in the age of the internet, is the effective way that the author deals with social media, social bullying, "going viral", and problem solving. The girls start a blog as a way to get fan support for their magazine idea and another group twists some facts to say that they are cheating. Of course, they do this through the blog so word spreads like wildfire. This introduces a number of challenges to the girls: do they fight back, defend, challenge the other group? They end up tackling the issue head on and I was really happy to see that. We have instincts from the get-go in life. As we grow, we learn to pay attention to them and in some cases, heed them. The girls follow their instincts throughout the book and it creates a fun, realistic read.
My very favorite part is Paulina's contribution to the magazine. She does an article about the internet that I plan to read to my students even if I don't read them the whole book. Here's a snippet:
We live in a world our mothers probably never dreamed of when they were kids…We can be in touch with one another almost anytime we want…All this technology connects us and gives us the opportunity to stay in touch, to reach out, and to be closer to our friends and family than any generation before us. All these wonderful inventions, from email to smartphones, have the potential to build us up. Unless they tear us down first.

I want to put the whole article that she writes here because it is so real and powerful. It's exactly what we're trying to teach kids now that they have immediate access 24/7. The author does this through a character she has created that kids will connect (yes, mostly girls but that's okay) to and that has more power than any lecture ever could. Even if you don't read the book (which you should), find it, read pages 114-117 and then make your kids (pre-teens and teens) read it over and over and over again. Then finish the book cause it's a really sweet read.
Lexile Level – 700L
Forever Four at Amazon.com
Forever Four at Amazon.ca