Good Things Come In Threes; The Ascendance Trilogy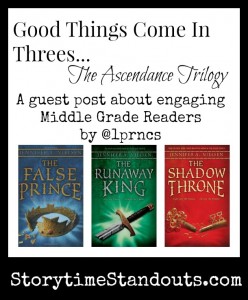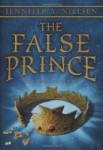 This isn't a scientific fact but it is a completely accurate statement when applied to Jennifer Nielson's Ascendance trilogy. After Carolyn recommended The False Prince, I wrote a post (okay, gushed shamelessly) about the book. I have never, in thirteen years of teaching, read an entire trilogy or series of books to a class. For one thing, there's the time factor. I tend to read, at least, one book per term for read aloud. I try to do a selection of books, based on student interest. This year, we started the year with One for the Murphy's and I planned another book for after The False Prince. I didn't plan to finish four full novels before Spring Break. I also didn't plan to fall head over heels for Jaron or for my class to be so captivated by his story that even my most reluctant reader, the one who claimed he would rather do anything before read, that we couldn't focus until we knew how it all played out.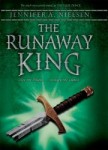 We read through the second book, The Runaway King, even more engaged. More action unfolded and we knew Jaron now, cared about him. We read every single day, without fail. If I had a substitute teacher in for me, I wouldn't let them read to my class. I would tuck the books away so the kids didn't say, "Oh, she reads that to us every day." I've never done that. I also made a promise to my class because they love that I hadn't already read the books- I told them I would not read ahead. I would learn Jaron's story along with them. Perhaps that is part of what made them connect to the story. My reactions were real and in the moment and the kids like that- they like seeing their teacher as a real person- one who gets outraged when the main character is suffering or maybe sheds a few tears when something heartbreaking happens. It gives them the freedom to attach strongly to the books as well. While we are reading, we are part of that world. Which is why, when Runaway King finished with a cliff hanger, we had no other option. We had to know. So we moved on to Shadow Throne and as much as I loved the first two, this one was my favorite. I loved watching who Jaron became, how my students reacted to what was happening, learning how it all unfolded and came together. My reluctant reader? He bought all three books and told me that he "didn't make the same silly promise to not read ahead". He brought them in to show me. As much as I loved these books, connected with them, the fact that they reached so many students, even the ones that did not want to be reached, made me love them more.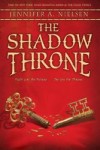 I have posted before about how important I think sequels and trilogies are for reluctant readers. If you can find something they can latch onto, get immersed in, then you want to know there's more waiting for them. Though there are no more in this series we loved, the students are now looking around the library differently. They're looking for the next book that they will fall for the way we did these three. And while they're looking, they're reading. Reading is a gift. No matter how many times I tell my students this, the ones who just haven't found the book that pulls them all the way in will never fully believe it without proof. This trilogy was proof for some of the students in my class. It spurred discussions, connections, and debates. Each book made us want more and the most important thing is, they delivered. There are many series where you read the first, love it, and then move on and the second one just doesn't have the same draw as the original. One of the things that continuously got to me during the readings, was how far Ms. Nielsen pushed her characters and her readers. These stories are amazing tales of courage and redemption. Of making something out of nothing and of finding the way out of even the most harrowing situations. When the students look back, when I look back, these three books will be a large piece of what made this year special.
Lexile Measures
The False Prince – 710L
The Shadow Throne – 810L
The Runaway Kings – 710L
The False Prince at Amazon.com
The Runaway King at Amazon.com
The Shadow Throne at Amazon.com
The False Prince at Amazon.ca
The Runaway King at Amazon.ca
The Shadow Throne at Amazon.ca