Gardening
Gardening with children – writing prompts, wordplay and picture book suggestions!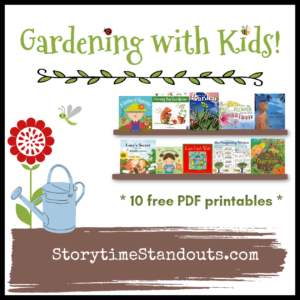 Enjoying gardening with children is a wonderful way to get them outdoors, breathing fresh air, learning and excited about our natural world. In this article, we share picture book suggestions, writing prompts, wordplay and free printables for teaching about gardening in homeschool, preschool and kindergarten
Elsewhere on this site
Opening a packet of seeds or planting some bulbs with a child or a group of children could lead to conversations about soil, water and the water cycle, germination, pollination, fertilizing, composting, dealing with garden pests and urban wildlife.
For this page, we have pulled together descriptions of some of our favorite picture books about gardening with children and our free gardening-theme printables for children. We hope you and your child will share happy times selecting and sowing seeds, watching as the seedlings peek out of the soil and grow into beautiful flowers and nutritious vegetables.
Highlighting Children's Books About Gardens and Gardening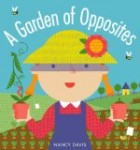 A Garden of Opposites written and illustrated by Nancy Davis
A gardening concept book for children published by Schwartz & Wade Books, an imprint of Random House
Beautiful, bright illustrations show us that there are many opposites to be discovered in a backyard garden. Young children will thoroughly enjoy comparing a "plain" butterfly with one that is "fancy," "alike" clover with clover that is "different" and a "dull" shovel with "sharp"pruning sheers. A glorious gatefold encourages readers to discover many more depictions of opposites and sturdy pages make this a great choice for a classroom library.
26 pages, great for toddlers and preschool
A Garden of Opposites at Amazon.com
A Garden of Opposites at Amazon.ca
---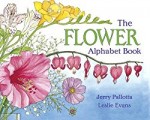 The Flower Alphabet Book written by Jerry Pallotta and illustrated by Leslie Evans
Alphabet Book published by Charlesbridge
Lovely, detailed illustrations and wonderful rich vocabulary highlight this concept/information book. Highlighting flowers from Amaryllis to Zinnia, young gardeners will learn all sorts of fascinating details about the featured plants. Beautiful illustrations include panels around the flowers and Artist Notes in the end papers include additional information about what is depicted in the illustrations.
The Flower Alphabet Book at Amazon.com
The Flower Alphabet Book at Amazon.ca
---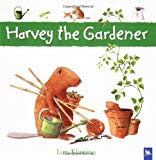 Harvey the Gardener written and illustrated by Lars Klinting
Picture book about growing bean seeds (part of the Handy Harvey series) published by Kingfisher
A terrific fictional account of planting and growing bean seeds. Harvey the Gardener tells the story of an enthusiastic beaver and his pal, Chip who decide to plant bean seeds in pots and also in the garden. After soaking some seeds overnight, Harvey and Chip begin by researching how to plant bean seeds. THey assemble the materials, follow the directions and before too long they have beans sprouting from the pots on the windowsill. It is so very exciting to watch the plants grow tall and eventually produce bean pods. Together, Harvey and Chip harvest the beans and cook them.
Harvey and Chip are delightful, engaging characters. Reading Harvey the Gardener and looking carefully at the detailed illustrations would be an excellent way to extend learning for children who are new to growing seeds and gardening.
The Afterword includes Gardening Tips and a list of bean varieties.
Harvey the Gardener at Amazon.com
Harvey the Gardener at Amazon.ca
---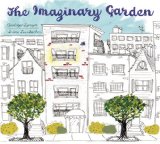 The Imaginary Garden by Andrew Larsen, illustrated by Irene Luxbacher
A picture book about gardens and gardening, imagination and the special relationship between children and their grandparents. Published by Kids Can Press
Theo is blessed to have a very special relationship with her grandfather, Poppa. When Poppa moves into an apartment, they decide to create an imaginary garden on his balcony. The first Saturday of spring is marked by the arrival of a giant, blank canvas. Before long, Poppa and Theo have created a long stone wall and beautiful blue sky. Soon they have added beautiful spring flowers to their masterpiece. When Poppa leaves for a holiday, Theo worries about tending their special garden by herself. With gentleness and love, Poppa assures her that she will know what will nurture their imaginary garden. This lovely picture book would be a great gift for a special Grandpa.
The Imaginary Garden at Amazon.com
The Imaginary Garden at Amazon.ca
---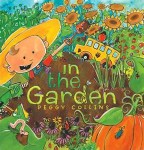 In the Garden written and illustrated by Peggy Collins
A picture book about a child planting seeds and watching his backyard garden grow published by Apple Sauce Press an imprint of Cider Mill Press Book Publishers
After planting toy vehicles in mud, an exhuberant youngster plants seeds and then waters the garden. Before too long, a few seedlings appear and the child feels enormous as he towers above them. As the plants grow taller and taller, we discover caterpillars, snails, slugs, bumblebees and ladybugs are all visitors to the flourishing flowers and vegetables. On a rainy day, the young gardener, wearing rainboots and coat is undeterred and splashes through vegetable plants, past a birdhouse and a birdbath. It is not long before the sun returns and he savours ripe peas, mini tomatoes and juicy strawberries.
Young children will find lots of fun details in the bright, bold illustrations. The relatively large format make this a good choice for a group setting.
---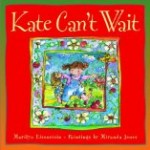 Kate Can't Wait – Written by Marilyn Eisenstein and illustrated by Miranda Jones
A picture book about a child's impatience, emotions and growing strawberries published by Tundra Books
Do you live with an impatient preschooler? Kate hates long car rides, waiting for her hair to grow and for her juice to be poured. Her mother constantly reminds her that some things are worth waiting for. This message is brought home when Kate moves to live on a farm with her mom. Kate meets a new friend who gives her some young strawberry plants to cultivate. Together, the two girls nurture the strawberry plants, watching them grow and finally enjoying a delicious reward. Miranda Jones' pen and watercolour paintings depict Kate's strong emotions effectively.
24 pages, Best for children aged 3 to 7
---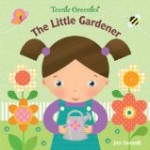 Teenie Greenies – The Little Gardener written and illustrated by Jan Gerardi
A board book with flaps to lift. Rhyming text introduces gardening vocabulary, seeds, growing flowers and vegetables. Published by Random House
A sweet, lyrical introduction to gardening, The Little Gardener is best-suited to very young children. The board book introduces gardening implements, as well as seed-planting, composting, weeding and watering. It also touches on pollination and saving seeds to plant the following year as a young girl plants and tends a pretty flower and vegetable garden.
The Little Gardener (Teenie Greenies) at Amazon.com
The Little Gardener (Teenie Greenies) at Amazon.ca
---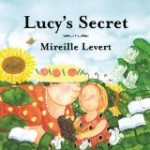 Lucy's Secret – written and illustrated by Mireille Levert
A metaphorical picture book about seeds, sprouting and gardening published by House of Anansi Press Inc. | Groundwood Books
When Lucy visits Anna Zinnia's garden, she is enchanted by all she sees; beautiful flowers and busy insects. When Anna Zinnia reveals a box of seeds, she tells Lucy, 'In each seed lies a hidden, baby flower.' Lucy plants the seeds and then waits and waits for the young plants to appear.
Lucy's Secret is richly illustrated and simply told. It will be a lovely accompaniment for your springtime seed planting and gardening activities.
32 pages, ages 3 to 5
---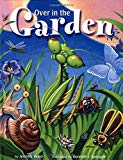 Over in the Garden by Jennifer Ward and illustrated by Kenneth J. Spengler
Counting, Rhyme Picture book about Insects in a Garden published by Cooper Square Publishing Llc
Bright, bold illustrations and text adapted from the traditional song, "Over in the Meadow," highlight this attractive garden-theme picture book.
Over in the garden where the sunflowers grew
Lived a mother ladybug and her little bettles two.
Young children will enjoy searching the illustrations for the number to match each of the rhymes, they will also like the close-up view of ants, spiders, bees, ladybugs, dragonflies and bees. The Afterword includes Fun Facts about insects and related vocabulary and sheet music for the song.
Very well-suited to a preschool or kindergarten setting.
Over in the Garden at Amazon.com
Over in the Garden at Amazon.ca
---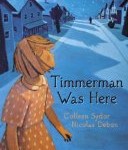 Timmerman Was Here – written by Colleen Sydor and illustrated by Nicolas Debon
A picture book about making a positive difference, assumptions, gossip, friendship published by Tundra Books
Written from the perspective of a young girl, we share her nervousness as a stranger arrives at her home. The stranger moves into a bedroom, recently vacated by the girl's grandfather who has gone to live in a residence for seniors. The young girl is not happy about the stranger's arrival but as she watches and interacts with him, she discovers a gentle heart. When the stranger is discovered walking the neighbourhood at night (with a spade and a burlap sack), gossip abounds. The neighbours speculate that he could be a bank robber or responsible for the death of a cat.
Timmerman Was Here is a lovely, thought-provoking story that encourages the reader to rethink assumptions and stereotypes. Highly recommended.
Suggested for children 4 – 8
Timmerman Was Here at Amazon.com
Timmerman Was Here at Amazon.ca
---
---
Gardening-Theme Wordplay and Writing
Choose a gardening-related word and see how many words you can spell with the letters –
beanstock – an, ban, bank, bans, be, bean, beans, can, cans stock, tack, tock
sunflower – flow, flower, fun, low, lower, no, now, run, self, slow, sun
gardening – are, dare, den, ding, rain, grin, grind, nine, rid, ride
See how many gardening-theme compound words you can discover
Here are some examples to get you started – beanstock, beehive, flowerpot
Make a list of words that rhyme
with seed
bead, bleed, breed, deed, feed, gread, knead, lead, need, read, reed, skied, speed, tweed, weed
with stem
condemn, gem, hem, them
with plant
ant, aunt,can't, chant, grant, pant, rant, slant
Try one of these gardening-theme writing prompts
The seeds I planted….
My pumpkin grew and grew….
Inside the birdhouse…
We only planted yellow flowers but…
We ran to the community garden…
I grew the biggest…
Free Gardening-Theme Printables for Children

Step 1 – Make sure you have Adobe Reader. If you don't have it, please click on the 'Get Adobe Reader' button to install it for free.


Step 2 – Pin this page, bookmark this page, share this page or "Like" us on Facebook.
Step 3 – Choose from any of our 250 free downloads, including these free Gardening theme printables.
Free Printable Gardening-Theme Poems, Rhymes, Chants for children

A Little Seed

Free printable chant about planting a seed. Great for preschool, kindergarten and homeschool.
Free Printable Gardening-Theme Picture Dictionary for children

Gardening Picture Dictionary

Free printable gardening picture dictionary for readers and writers in kindergarten and grade one.
Gardening for Children Writing Paper

Writing paper for kids - Smiling Flowers

Garden theme interlined paper for beginning writers.

Writing paper for kids - Spring Flowers

Spring theme interlined paper for beginning writers.

Writing paper for kids - Watering Can and Seedling

Gardening theme interlined paper for beginning writers.

Writing paper for kids - Seedling in Flowerpot

Plant theme interlined paper for beginning writers.

Writing paper for kids - Strawberry

Strawberry theme interlined paper for beginning writers.
Free Printable Planting a Flower Garden Sequencing Activity

Planting a Flower Garden Sequencing Activity


---
Follow Storytime Standouts' board Gardening For Preschool and Kindergarten on Pinterest.