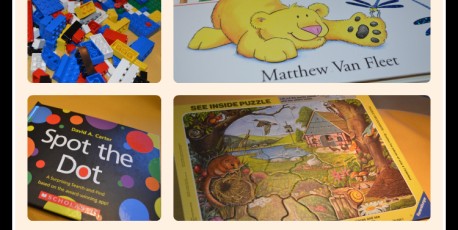 Since September 2013, I have been working twice a week with a four year old boy who has delayed speech. He lives in a bilingual household and he has one older sibling – a girl who also had delayed speech. It has been enormously rewarding to help this child find his voice. He is unfailingly happy and is always excited to welcome me and my "bag of tricks" into his home.
Here are some of the items that have been particularly helpful as we find ways to engage him verbally.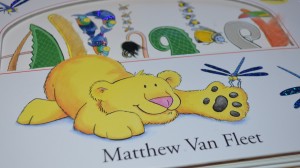 Alphabet by Matthew Van Fleet has been our go-to alphabet book.
At almost every one of our sessions, my student has touched, lifted flaps and pulled the tabs of this cheerful and engaging alphabet book and accompanying (pop up) poster. Whether feeling the alligator's scaly tail or the yak's shaggy head, this is a book that children love to explore through touch.
Phonemic awareness is also supported as the author effectively uses alliteration, 'Wet waddling Warthogs,' rhyming and onomatopoeia, 'Furry Lions roar, Whiskered Mice squeak, Hungry newborn Nightingales – cheep, cheep, cheep!' while introducing a variety of animals. Older children will notice that extra details have been added to the illustrations but not the text. Termed, Safari Sightings, these animals and plants are illustrated and listed in an afternote.
Alphabet won the following
2008 National Parenting Publications Gold Award
Parenting Favorite Book of the Month, April 2008
Top Ten Children's Books of 2008, Time.com
A New York Times Children's Bestseller (2008)
Alphabet at Amazon.com
Alphabet at Amazon.ca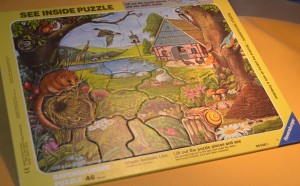 I can't tell you how many times we have solved this Ravensburger See Inside Puzzle
together. My young student happily turns the puzzle upside down, and together we turn all the puzzle pieces over. We chat as we start with the corners and work towards the middle of the puzzle. There are so many ways to enrich a child's vocabulary, understanding and problem solving as we talk about the puzzle pieces and their attributes while noticing the plants, insects, animals, birds and structures featured in the puzzle itself.