Tree and Forest Picture Books for Preschool, Kindergarten and Primary Grades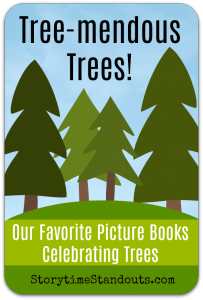 Sharing a selection of picture books about trees has led to some wonderful discoveries. The books we have included are respectful of trees and their impact on our environment, some using them metaphorically.
These picture books about trees and forests often include references to the seasons and to the cycle of life. Use these picture books about trees and forests in preschool, kindergarten and primary classrooms to share information and create environmental awareness.
Elsewhere on this site ~
– Children's books about the environment
– Gardening Fun with Kids
– Children's books about recycling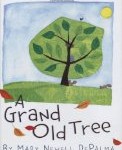 A Grand Old Tree written and illustrated by Mary Newell DePalma
Picture book about trees and ecosystems Published by Arthur A. Levine Books, an imprint of Scholastic
"Once there was a grand old tree. Her roots sank deep into the earth, her arms reached high into the sky. She was home to many creatures."
Lovingly written and illustrated, A Grand Old Tree is a wonderful tribute to an ageing fruit tree. We watch as squirrels scamper, birds chirp and bees buzz in the branches of the tree. Through the seasons, we witness her bloom and produce seeds to blow from her branches. We consider how many leaves she has produced.
One moonlit winter night, she falls. Snow covers her weary trunk and branches. When spring arrives, we can see her offspring growing nearby and we know her decaying trunk is still home to raccoons, insects and lichen. We appreciate her legacy and understand that her children and grandchildren are now growing, flowering, and sowing.
Both informative and quietly reassuring, this is an eco-friendly picture book children will enjoy again and again.
Note: there is a concrete poem (the text is printed to represent the trunk of a tree) in the book.
Teaching suggestions from the author's website
A Grand Old Tree at Amazon.com
---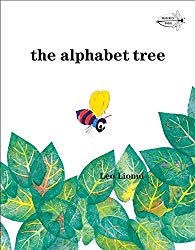 the alphabet tree written and illustrated by Leo Lionni
Picture book about letters, words and a remarkable tree published by Dragonfly Books
A lovely tribute to the idea that there is strength in numbers. the alphabet tree opens with individual letters living happily in a large tree. When a very strong windstorm hits, some letters are blown out of the tree. The remaining letters retreat and huddle together. It is a word-bug that encourages the letters to work together to form words. Feeling stronger and more confident together, a caterpillar suggests forming phrases and, eventually, creating an important message for the president. An outstanding resource for encouraging print awareness, this picture book could also be interpreted as encouraging social or political activism.
The Alphabet Tree at Amazon.com
The Alphabet Tree at Amazon.ca
---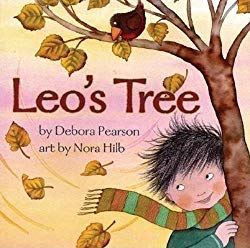 Leo's Tree written by Debora Pearson and illustrated by Nora Hilb
Picture book about trees, seasons and family published by Annick Press
A lovely picture book to share with preschool-age children, Leo's Tree begins when Leo's parents plant a tree just after Leo is born. We watch as both the tree and the baby grow, changing through the seasons. Gentle watercolor illustrations follow Baby Leo, Toddler Leo and, eventually Big Brother Leo, playing nearby as the tree grows tall and strong. Rhymes, repetitive text, and alliteration all contribute to a rich text that will appeal to young children.
---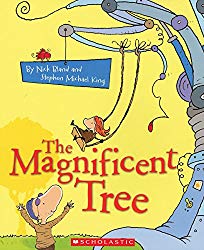 The Magnificent Tree written by Nick Bland and illustrated by Stephen Michael King
Picture book about problem solving and creativity published by Scholastic
Bonny and Pop love creating things. Bonny takes a simple, straightforward approach. Pop is less conventional. they would both love to have birds stop and stay for a while but, instead, they just fly past. Bonny and Pop agree that the solution is to make a tree. In keeping with their personalities, Bonny approaches the tree problem simply. By contrast, Pop makes an elaborate plan and works day and night. Finally, Pop's creation is ready and, on the first day of Spring, dozens of birds check it out before landing in Bonny's project.
An exuberant tribute to finding more than one way to approach a challenge. Fun illustrations have lots of details that will have a special appeal for tinkerers.
The Magnificent Tree at Amazon.com
The Magnificent Tree at Amazon.ca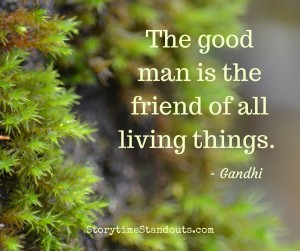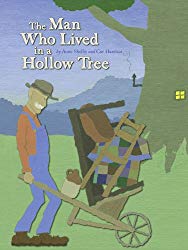 The Man Who Lived in a Hollow Tree by Anne Shelby and Cor Hazelaar
Tall Tale about a man who decides to live in a tree published by Simon Says Kids
Beautifully illustrated and richly told in a storyteller's voice, it is easy to imagine hearing this tall tale while sitting fireside on a winter evening. Harlan Burch lived in Appalachia long ago. He worked as a carpenter and spent time in the woods, choosing trees for his projects. Apart from cutting trees down, he also planted them – replacing each one that he cut with two saplings. One day, he came across a sycamore that was so large, there was room enough inside for Harlan to create a comfortable home.
Not long after moving into the sycamore, something strange happened. It was as though time had stopped and reversed. Harlan became more and more youthful. He soon married and had a family. The family thrived and grew, eventually populating all of Appalachia.
The Man Who Lived in a Hollow Tree at Amazon.com
The Man Who Lived in a Hollow Tree at Amazon.ca
---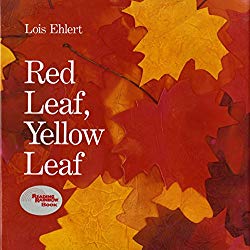 Red Leaf, Yellow Leaf created by Lois Ehlert
Picture book about a Sugar Maple Tree published by HMH Books for Young Readers
Featuring dazzling collage illustrations, great for a group setting/read-aloud, Red Leaf, Yellow Leaf shows readers real maple tree seeds (samaras), burlap, twine, wire, plant tags, and tree roots. Beautiful Fall colors are highlighted in the cover art and elsewhere in the book. The main text is large and tells the story of the origins of a maple tree, from the moment a seed falls in a forest through transfer to a garden center and eventual planting in a garden. In addition to showing readers the tree growing from seed to sprout to sapling, the illustrations also include unobtrusively labelled creatures that might live in and around a tree (squirrels, birds, earthworms) as well as other details that will promote learning.
A four-page appendix provides background information that will be helpful to young scientists and inquisitive researchers. An outstanding resource for kindergarten and primary-grade classrooms or for homeschool.
Red Leaf, Yellow Leaf at Amazon.com
Red Leaf, Yellow Leaf at Amazon.ca
---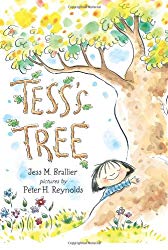 Tess's Tree written by Jess M. Brallier and illustrated by Peter H. Reynolds
Children's book about coming to terms with loss published by Harper Collins Children's Books
Tess loves the tree in her yard. She loves to sit under it and read, she swings from it and, in Fall, she plays in the leaves beneath it. On a dark, blowy night, two of the large branches are damaged and fall to the ground. There is no choice, the old tree must be taken down.
Tess's emotions are strong. She is angry and sad. She knows that she must do something to honor the tree. She plans a funeral service to celebrate the life of her tree.
It is not long before Tess learns that the tree is not just hers. There are others for whom the tree was important.
Tess's Tree provides an opportunity to explore important themes of love and loss with children. I have read some reviews that suggest that the story ought to have ended with Tess planting another tree. My personal perspective is that might be an obvious "solution" to Tess's grief, in some ways, this particular tree was irreplaceable. Much like the loss of a friend, family member or pet, dealing with loss is not always as simple as finding a replacement.
Tess's appears to be part of a single-parent family.
---

We Planted a Tree – written by Diane Muldrow and illustrated by Bob Staake
Picture book about trees and ecosystems published by Golden Books an imprint of Random House
Young families in Brooklyn, New York and in Africa each plant a tree. As their trees grow, We Planted a Tree takes us to visit beautiful trees budding in Toyko and gorgeous bright, pink blossoms in Paris.
"The sun kept shining.
The pink blossoms dropped off,
But soon there were green leaves,
Green, green shiny leaves,
Which had food inside for the tree.
This joyous celebration of trees and the impact of planting just one, highlights that they can be a source of food and shade, they help to clean our air and they can prevent soil erosion. As well, readers learn that trees are home to birds and animals.
We Planted a Tree at Amazon.com
We Planted a Tree at Amazon.ca
---
Free, Printable Tree-Theme Writing Paper for Home and Classroom

Writing paper for kids - Tree with bluebird

Tree theme interlined paper for beginning writers.

Writing paper for kids - Tree including roots

Tree theme interlined paper for beginning writers.