Classic Picture Book: Chicka Chicka Boom Boom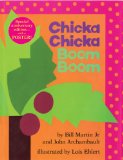 Chicka Chicka Boom Boom written by Bill Martin Jr. and John Archambault, illustrated by Lois Ehlert
Classic Picture Book published by Simon & Schuster
It sounds like fun when lowercase letters A, B, and C decide to meet at the top of a tall coconut tree but the message spreads like wildfire and they are not the only letters scrambling up the tree trunk and hiding among the palm fronds. Before long, the entire lowercase alphabet is weighing down the tree branches and trunk. Slowly the heavily laden tree bends until it cannot support another thing.
Still more – W
And X Y Z!
The whole alphabet up the – Oh, no!
Chicka chicka…
BOOM! BOOM!
Two coconuts crash to the ground and then all the lower case letters are thrown from the tree and land in a twisted heap. Moments later, adults (uppercase letters) rush to the scene, embracing their offspring and offering reassurance.
Bright, distinctive, bold illustrations nicely compliment the rhythmic, repetitious text. This is a alphabet book with many possible extension activities. It belongs on every child's bookshelf.
Kentucky Bluegrass Award for K-3 (1991),
Boston Globe-Horn Book Award Nominee for Picture Book – Honor Book (1990)
School Library Journal Top 100 Picture Book
New York Public Library 100 Great Children's Books
Chicka Chicka Boom Boom at Amazon.com
Chicka Chicka Boom Boom at Amazon.ca
Follow Storytime Standouts's board Chicka Chicka Boom Boom written by Bill Martin, Jr. and illustrated by John Archambault on Pinterest.


Some related picture books that young readers will enjoy