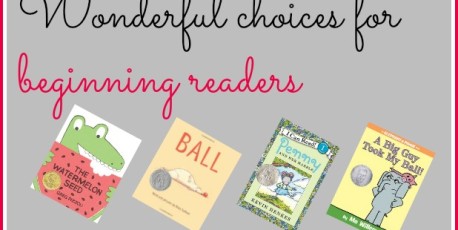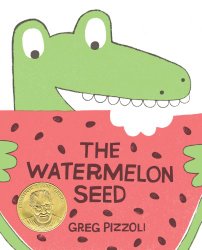 The Watermelon Seed written and illustrated by Greg Pizzoli
Picture book for beginning readers published by Disney Hyperion Books, an imprint of Disney Book Group
When a charming and exuberant crocodile explains that he loves watermelon, we are utterly convinced,
Ever since I was a teeny, tiny baby cocodile, it's been my favorite.
CHOMP! SLURP! CHOMP!
While enthusiastically devouring his favorite fruit, the crocodile accidentally ingests a seed, his imagination runs wild and he assumes a variety of terrible outcomes.
Repetitive text, limited use of long vowel words and very good supporting illustrations make this a great choice for beginning readers.
The Watermelon Seed at Amazon.com
The Watermelon Seed at Amazon.ca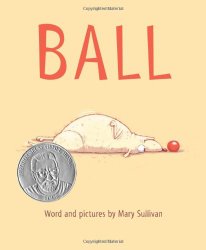 Ball written and illustrated by Mary Sullivan
Picture book for beginning readers published by Houghton Mifflin Books for Children
There is little doubt that this dog loves his small, red ball. From the moment he wakes up, he is focused on only one thing: playing with the ball. He especially loves when the ball is thrown by a young girl but when she leaves for school there is no one available to throw it.
This is a terrific picture book that relies heavily on the illustrations for the narrative. Apart from one repeated word (ball) it could be classified as a wordless picture book.
It will be thoroughly enjoyed by dog lovers and young children – especially those who are eager for an opportunity to read independently.