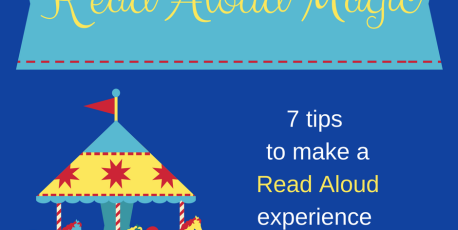 Use our 7 tips to make your child's read aloud experience enjoyable and magical for both of you!
Disneyland refers to itself as, "The Happiest Place on Earth!" We think that your daily read aloud experience should be the happiest part of your day. This is an opportunity to forget about work, forget about chores, forget about whatever is distracting you and make storytime an opportunity to focus just on your child. Read aloud is a time to escape into great picture books or chapter books and create wonderful memories and learning opportunities for your child.
Just as you might count down the days 'til you visit a theme park, create some excitement about the read aloud experience. "What shall we read tonight?" "I can't wait for our storytime!", "Let's borrow a HUGE pile of books from the library this weekend!", What kind of book would you like for your birthday?, Which books shall we take on our holiday?
Just as it is fun to go on the same ride more than once, it also completely fine to read the same book more than once! Each time you read aloud, children are learning new vocabulary, they are gaining phonemic awareness and exploring new ideas and new themes. Don't worry if they want to hear the same book over and over again. They are still benefiting from the experience and enjoying the time with you!
The best theme park rides immerse the riders in the experience! We want to do the same when we read aloud. Use silly, giggling voices, stern, authoritative voices. Use high-pitched squeaky voices and low-pitched growls. Act out part of the story along with your child! Build a special fort and read inside it! Turn out the lights and read with a flashlight or read while streched out on a picnic blanket.