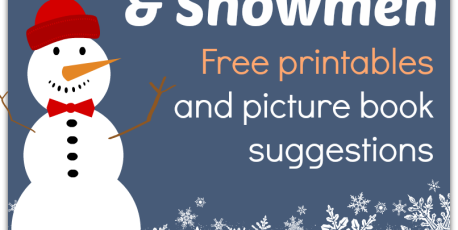 Our free "Building a Snowman" printable for kids has been enormously popular this month so I thought I would pull together some more snow-related materials that would be great for a preschool or kindergarten snow theme. I have added more Snow and Snowmen materials today. I would love to hear about your favourite resources and suggestions.




Board Books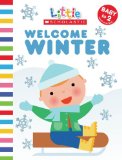 Welcome Winter written by Jill Ackerman, illustrated by Nancy Davis
Winter theme board book published by Scholastic
This sturdy, fun board book caught my eye and will have great appeal for toddlers. The illustrations and text are simple and yet very engaging. I especially liked the description of "snow crunching under boots" and a matching slippery, noisy surface that begs to be touched. Very young children will thoroughly enjoy checking out a variety of textures as they learn about the season of swirling snowflakes, cold temperatures and wind.
Welcome Winter at Amazon.com
Welcome Winter at Amazon.ca
Winter and Snowman theme Picture Books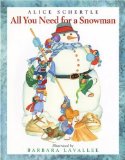 All You Need for a Snowman written by Alice Schertle and illustrated by Barbara Lavallee
Snow theme picture book published by Houghton Mifflin Harcourt Books for Young Readers
All You Need for a Snowman is a book that I have used with 4, 5 and 6 year olds many times. Bright, energetic illustrations and lyrical rhyming text tells the story of a group of children who build two enormous snowmen. This is a book that preschoolers gravitate towards – they enjoy watching the process of building a snowman and celebrate the end product, a giant, happy snowman.
All You Need for a Snowman at Amazon.com
All You Need For a Snowman at Amazon.ca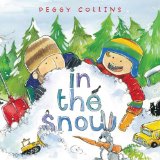 In the Snow written and illustrated by Peggy Collins
Snow theme picture book published by Applesauce Press
In the Snow tells the story of a young boy who is excited when he awakens to snow. Eager to have fun, he dresses in warm clothes goes outside with his father. They fill the bird feeder and notice some animal tracks in the fresh snow. The father and son have a happy, playful relationship and soon get to work and build a huge snowman. Also vividly illustrated, In the Snow will be enjoyed best by preschoolers.
Note: the brief mention of animal prints in the snow as well as the action of filling a birdfeeder, provide opportunities for a discussion about urban wildlife and further extension activities.
In the Snow at Amazon.com
In the Snow at Amazon.ca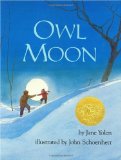 Owl Moon – written by Jane Yolen, illustrated by John Schoenherr
Winter theme picture book published by Philomel Books a division of Penguin Young Readers Group
In 1988 the Caldecott Medal was awarded to Owl Moon. A special 20th anniversary edition is now available and provides an opportunity to discover the picture book's wonderful, timeless magic.
It is very late at night when a father and his young daughter venture into the cold. They are seeking a glimpse of a great horned owl. The companions walk together silently and eagerly under an Owl Moon.
Beautifully illustrated, this is a remarkable book that will be enjoyed by the entire family. The depiction of the young girl's excitement will no doubt inspire parents to bend their bedtime rules and enjoy a moonlit, late night walk.
Owl Moon at Amazon.com
Owl Moon at Amazon.ca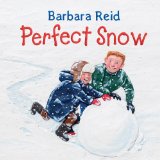 Perfect Snow written and illustrated by Barbara Reid
Snow theme picture book published by North Winds Press, an imprint of Scholastic Canada
Great for school-aged children, Perfect Snow features a combination of Plasticine artwork complimented by ink and watercolour illustrations. It tells the story of the excitement of a snowy day at school and the students' decision to work together and build "The World's Greatest Totally Massive Snowman Fort"
Perfect Snow at Amazon.com
Perfect Snow at Amazon.ca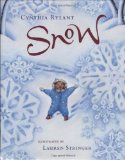 Snow written by Cynthia Rylant and illustrated by Lauren Stringer
Snow theme picture book published by Harcourt, Inc.
What could be more wonderful for a young child than waking up to freshly fallen snow? Ms Rylant's evocative writing and Ms Stringer's lovely paintings beautifully capture the wonder and delight of a snowy day in Snow. An exuberant young girl shares the special day with a friend and her grandmother. This beautiful book will surely leave you wishing for a magical snowy day to share with your youngster.
Snow at Amazon.com
Snow at Amazon.ca