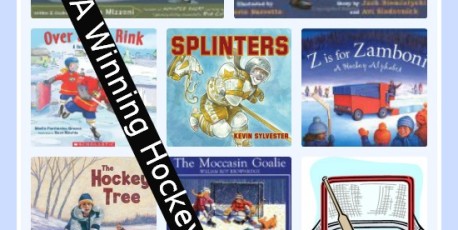 My youngest son has played hockey since he was five years old. For years, bedtime stories included books about playing hockey. Many of these stories include great messages about friendship, teamwork, bullying and working together toward a common goal.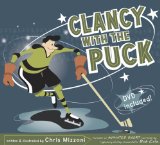 Clancy With the Puck written and illustrated by Chris Mizzoni
Hockey picture book (adaptation of a traditional story) published by Raincoast Books
Just as Casey could hit a baseball, Clancy is a star when it comes to hockey. When Clancy Cooke joins the Hogtown Maple Buds, hopes are raised for a Stanley Cup win. Alas, in the final moments of a playoff game, when Clancy takes a penalty shot, "The puck deflected off the post, like a comet to the sky. The Buds had lost the Stanley Cup – and the fans went home to cry." A sure winner, especially for hockey fans and those familiar with the classic story of Casey at the Bat.
Clancy with the Puck at Amazon.com
Clancy with the Puck at Amazon.ca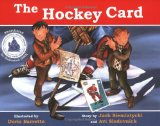 The Hockey Card Written by Jack Siemiatycki & Avi Slodovnick and illustrated by Doris Barrette
Hockey picture book published by Lobster Press
When Uncle Jack shares the story of the best hockey card he ever had, we take pleasure in a glimpse of the great Maurice Richard and a schoolyard duel against a tough hockey card shark. This is a book that made a lasting impression in our household – my youngest son is now a 13 year old bantam hockey player and just noticed me working on this post. He remarked, "Now that was a good book."
The Hockey Card at Amazon.com
The Hockey Card at Amazon.ca