Five Fun Picture Books for Valentine's Day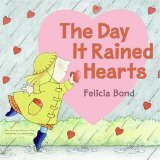 The Day it Rained Hearts written and illustrated by Felicia Bond
Valentine's Day picture book published by Harper Collins
You are no doubt familiar with Felicia Bond's lively illustrations in If You Give a Mouse a Cookie. Here she tells the story of Cornelia Augusta, a girl who is caught in a rather unusual rainstorm.
On The Day It Rained Hearts
Cornelia collected hearts of all different shapes and sizes and then set to work making Valentines for her special friends. Before setting to work, she thinks carefully about each individual and she creates cards and gifts that suit each perfectly.
She found seven that were more or less alike and strung them together with a needle and thread."I know just the right person for this one," she thought.
The Day it Rained Hearts encourages thoughtfulness and creativity. A lovely choice for your young Valentine or for sharing at a February storytime.
Extension activities could include a search for hidden hearts, comparing and categorizing hearts and creating Valentine's Day cards and gifts.
32 pages, Ages 3 to 5
The Day It Rained Hearts at Amazon.com
The Day It Rained Hearts at Amazon.ca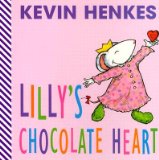 Lilly's Chocolate Heart written and illustrated by Kevin Henkes
Valentine's Day picture book published by Harper Collins

Lilly is a beloved picturebook character. Best known for Lilly's Purple Plastic Purse
, she also appears in Lilly's Big Day, Chester's Day, Wemberly Worried and Julius The Baby of the World.
Before going to bed on Valentine's Day, Lilly must decide what to do with her one remaining foil-wrapped Valentine's Day chocolate.
"Lilly wanted to find the perfect place to keep the heart. She looked under her bed, but it was too dusty. She looked inside her dresser, but it was too messy."
Those who know Lilly, will agree that she is exhuberant and sometimes just a little bit impulsive so finding the perfect place for the precious chocolate is quite a challenge.
Lilly's Chocolate Heart will be a delicious treat for Lilly fans who will no doubt notice her purple plastic purse hanging from a dresser drawer handle and a painting of the purse that hangs on a wall.
Lilly's Chocolate Heart at Amazon.com
Lilly's Chocolate Heart at Amazon.ca