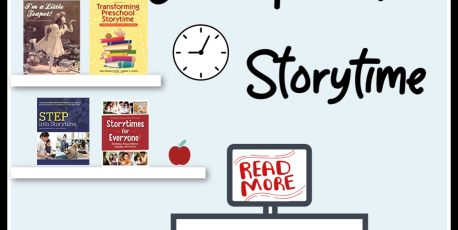 An effective Storytime or Circle Time is carefully planned to be welcoming, inclusive, engaging and educational. It should include a variety of enjoyable activities and well-considered materials.


More


When selecting books to share with a group, for example, non-fiction, as well as fiction, should be introduced. Writing style, book format and illustrations are also considerations – having some books with rhyming text is great but having every story told in rhyme would be tiresome. Big, bold illustrations will be seen more easily than those in small, lap books.


Most children's librarians and teachers have a selection of props to enhance their Storytime and Circle Time programs. Flannelboards are often used as well as musical instruments, hand or finger puppets and other props. I also like including Cut and Tell stories, which involve cutting paper with scissors as a story is told or Fold and Tell stories. Similarly, Draw and Tell Stories are told and illustrated on the spot rather than 'read' aloud to a group.


Teachers and librarians who present on-going programs will want to include elements that repeat (such as welcoming and ending rituals) as well as including some unexpected activities that will make each session unique and memorable. Having extra copies of the books that you share will encourage children to borrow them and read them again at home.


The length of the sessions will depend on the age of the children, the size of the group, the collective attention span of the children attending and whether or not other adults are present. Teachers and Librarians who include movement in Circle time and Storytime will help children to manage their energy and participate successfully.


Professional Resources for Planning Library Storytime and Preschool Circle Time
In addition to these resources, be sure to explore our free printables songs, rhymes, fingerplays and chants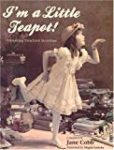 I'm a Little Teapot – Presenting Preschool Storytime Compiled by Jane Cobb and illustrated by Magda Lazicka
Professional Resource for Children's Librarians and Preschool Teachers published by Black Sheep Press
Featuring more than 60 potential storytime themes, I'm a Little Teapot is a handy resource that includes booklists (fiction and non-fiction), 500+ nursery rhymes/fingerplays, songs and "more ideas."
For example, for a frog theme, I'm a Little Teapot includes 11 suggested stories to read aloud, 5 non-fiction books and 5 fingerplays. For a clothing theme storytime, there are 29 suggested picture books to read aloud (plus 10 'More Stories' and 3 'non-fiction' titles, 10 nursery rhymes, 16 fingerplays and many 'More Ideas').
The book also includes an extensive list of recommended resources, presentation tips and suggestions for program planning, including program structure. Ms. Cobb recommends a core list of felt stories for storytime and references the use of traditional folk and fairy tales with preschoolers.
One of the strengths of this resource is that it does not assume that teachers have access to an extensive library of books or that they know fingerplays or songs. I have used the book when preparing for preschool programs and have found it to be easy-to-use and inspiring. I'm a Little Teapot includes 'Conventional' themes and as well as some unexpected ones like Giants and Royalty.
I'm a Little Teapot! Presenting Preschool Storytime at Amazon.com
I'm a Little Teapot!: Presenting Preschool Storytime at Amazon.ca
---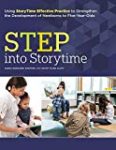 STEP into Storytime written by Saroj Nadkarni Ghoting and Kathy Fling Klatt
Professional Resource for Children's Librarians and Preschool Teachers published by American Library Association
STEP is an acronym for Story Time Effective Practice.
Almost one-third of this resource consists of professional development for librarians who present storytime programs to very young children.
The first section of the book includes a chapter that examines STEP and deals with implementation within a library system and also by an individual. Chapters 2,3,4 make a connection with child development including Developmentally Appropriate Practice, Intentionality and Scaffolding (adjusting the level of instruction to match the child's readiness).
The second section of the book makes a connection between best practices and a child's social/emotional development, cognitive development, physical development and language/literacy development.
Parent Education is a key component of STEP. The authors recommend that presenters model and speak regularly to parents about ways to support their child's development.
The remainder of STEP into Storytime consists of plans (including scripts) for traditional and sequential storytimes.
As an example, the "Yummy in My Tummy" plan includes introductory remarks, an opening song, parent tip, Do You Know the Muffin Man?, a non fiction book, two fingerplays, The Very Hungry Caterpillar, an action song, a song featuring sign language, two action rhymes, a counting book, an activity, a parent tip, a rhythm stick activity, rhyme with puppets, a song, a parent tip, a closing action rhyme and an extension activity.
STEP into Storytime does not provide alternate books (to be used if the teacher or librarian does not have access to the preferred book(s).
STEP into Storytime: Using StoryTime Effective Practice to Strengthen the Development of Newborns to Five-Year-Olds at Amazon.com
STEP Into Storytime: Using Storytime Effective Practice to Strengthen the Development of Newborns to Five-Year-Olds at Amazon.ca