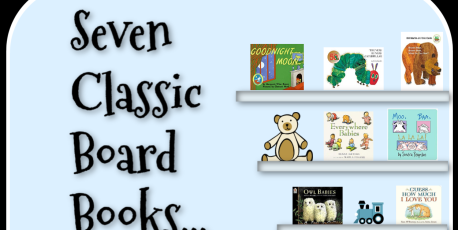 Start baby's first book collection with these special classic board books! Award-winners and bestsellers, these are stories that every child should hear, see, touch and enjoy. Board books make perfect gifts for baby showers and first birthdays. These are stories that mommies and daddies will read again and again.
~ Click to read our entire post ~
We began reading to our first son when he was six months old and I always recommend establishing a daily read-aloud routine while children are very young and happy to cuddle before bedtime. Don't be shy about using silly voices or being dramatic. Make the read-aloud experience relaxed, fun and memorable.


For tips on reading aloud to infants and children, be sure to read our answers to 10 Frequently Asked Questions About Reading Aloud to Children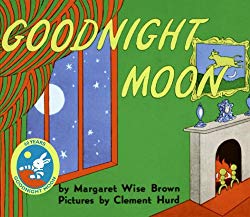 Goodnight Moon written by Margaret Wise Brown and illustrated by Clement Hurd
Classic Board Book for Babies and Toddlers published by Harper Festival a Division of Harper Collins Publishers
Ranked number 1 in School Library Journal's poll of Top 100 Board Books, Goodnight Moon has a gentle, pleasing cadence that is soothing and relaxing.
In the great green room
There was a telephone
And a red balloon
And a picture of –
Young readers will watch as a young bunny tries to settle for sleep, adjusting the pillow and bedcovers, as the room darkens and eventually sleep comes.
Our first glimpse of the 'Great Green Room' does not reveal everything, colour illustrations alternate with black and white. New details are revealed over the course of an hour. Youngsters can watch as the clocks' hands move and search the room for each of the details described in the text. A companion to The Runaway Bunny
, children will make connections between the two books especially when they look carefully at the illustrations.
Goodnight Moon at Amazon.com
Goodnight Moon at Amazon.ca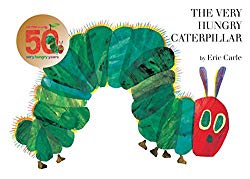 The Very Hungry Caterpillar by Eric Carle
Classic Board Book for Babies and Toddlers published by Philomel Books
What more could you ask for? A beautiful die-cut concept book that includes rich vocabulary, counting from one to five, the days of the week, the transformation of a caterpillar to butterfly and beautiful, richly toned illustrations. This truly is a can't miss story for babies and preschoolers.
Highly recommended as a gift for baby.
Click to visit our page about The Very Hungry Caterpillar
The Very Hungry Caterpillar at Amazon.com
The Very Hungry Caterpillar at Amazon.ca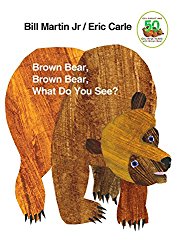 Brown Bear, Brown Bear What Do you See? by Bill Martin Jr and Eric Carle
Classic Board Book for Babies and Toddlers
Simple but beautiful collage illustrations and repetitious, rhythmic text introduce 9 animals and colours. Also notable, the book illustrations include a racially diverse group of children. The simplicity of the story makes it ideal for very young children but also opens the doors for young writers and illustrators to tell their own stories, perhaps using a different sense – Jacob, Jacob, what do you see/hear/smell/touch/taste?
Click to visit our page about Brown Bear, Brown Bear What Do You See?
Brown Bear, Brown Bear, What Do You See? at Amazon.com
Brown Bear, Brown Bear, What Do You See? at Amazon.ca