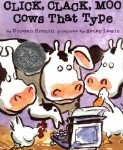 CLICK CLACK MOO Cows that Type written by Doreen Cronin and illustrated by Betsy Lewin
Classic Picture Book published by Simon and Schuster
Today we are continuing our Classic Picture Book series with a look at CLICK CLACK MOO Cows that Type. Originally published in 2001, it is a must-read for young children.
When Farmer Brown's cows get their hooves on an old typewriter, they put it to excellent use. They communicate with the farmer via a series of brief messages:
Dear Farmer Brown,
The barn is very cold
at night.
We'd like some electric
blankets.
Sincerely,
The Cows"
Initially Farmer Brown decides to ignore the cows' demand but he soon discovers that the cows hold the upper 'hand.' The determined cows go on strike and refuse to provide milk. Before long, the hens have sided with the cows. They are also cold and they halt egg production.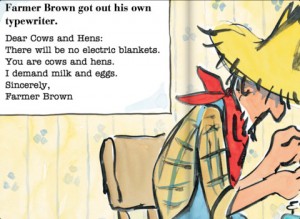 Poor Farmer Brown, his frustration with the upstart farm animals is clear. His farm simply must have milk and eggs.
CLICK CLACK MOO Cows that Type is a fun story that helps children to gain print awareness. The reader's attention is drawn to letters, words and print. As well, Farmer Brown's body language is great to watch. The terrific illustrations in the story encourage children to "read between the lines."
A 2001 Caldecott Honor Book, CLICK CLACK MOO Cows that Type is a not-to-be-missed book for children aged three years and up.
2001 Charlotte Zolotow Award Nominee for Highly Commended Title
2002 Vermont's Picture Book Awards: Red Clover
A 2001 ALA Notable Children's Book for Younger Readers
2002 Charlotte Award (New York State Reading Association)
2001 Maryland Black-Eyed Susan Book Award for Picture Book
2001 Book Sense Book of the Year Honor Book for Children's Illustrated
CLICK CLACK MOO Cows that Type at Amazon.com
CLICK CLACK MOO Cows that Type at Amazon.ca
CLICK CLACK MOO Cows that Type Teaching Resources
CPALMS – Florida State University – CLICK CLACK MOO Cows that Type First Grade Close Reading Lesson
Education Miami Rosenfeld Legacy Project – Introduce the Jewish value of Justice, Justice Shall You Pursue
6 By 6 Interactive Spaces Kansas Statewide Early Literacy Library Program for CLICK CLACK MOO Cows that Type
Theater Works USA Study Guide – includes PDF printables (matching game, wordsearch, sequencing activity)
PBS Kids – Cornerstones Lesson Guide (two week teaching unit) for CLICK CLACK MOO Cows that Type
Some related picture books that young readers will enjoy
Follow Storytime Standouts's board CLICK, CLACK, MOO Cows that Type on Pinterest.


Watch CLICK CLACK MOO Cows that Type on YouTube