Meet Children's Book Author and Illustrator Ruth Ohi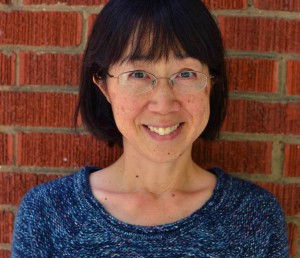 Ruth Ohi is the illustrator of over 50 children's picture books (17 of which she is also the author). She lives in Toronto, Canada and is a graduate of the Ontario College of Art and Design.
Her books have been selected for the Pennsylvania Centre for the Book's "Bakers' Dozen", the Canadian Toy Testing Council's "Great Books", the Ontario Library Association's "Best Bets" and the Toronto Public Library's "First & Best". They have been shortlisted for awards such as the Marilyn Baillie Picture Book, Amelia Francis Howard-Gibbons, Shining Willow, Blue Spruce and Rainforest of Reading awards.
Ruth Ohi's Facebook page
Ruth Ohi's website URL
Instagram: @RuthOhi
Pinterest: http://www.pinterest.com/ruthohi/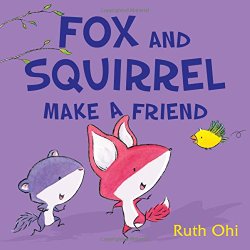 Ms. Ohi's latest published children's book is Fox and Squirrel Make a Friend (Scholastic Canada/Sept 2014)
Genres:
Social Issues/Friendship
Social Issues/Emotions and Feelings
Tell us about your latest published children's book. Who do you think should read it?
My hope would be that "Fox and Squirrel Make a Friend"(Fall 2014/Scholastic Canada) could be enjoyed by anyone who is a friend, would like a friend or wishes to be a friend. Fox and Squirrel's first story, Fox and Squirrel (Scholastic Canada, Fall 2013) showed that despite their differences, the two could find enough in common to be friends. Their second story came from looking out my studio window and admiring how squirrels could hang out in the highest, teeniest tree branches and thinking, "Hm, Fox couldn't go there." And I wondered what if Squirrel met someone else way up high and forgot all about Fox for awhile and how that would make Fox feel.
Fox and Squirrel Make a Friend at Amazon.ca
Thinking back to your own childhood, is there a particular author or illustrator who was a favourite? Why do you suppose that person's work resonated with you?
For chapter books it was Lois Darling of the Beverley Cleary original releases. She drew Ramona and Beezus in a way that was so satisfying for me. I very much empathized with Ramona about apples and marshmallows. For picture books, there are too many to list. I think the combination of artists like Leo Lionni, Maurice Sendak, Ezra Jack Keats, Dr. Suess and Robert McCloskey resonated with me because their words and pictures made me want to linger on the pages. They made me care about their characters.
When did you realize that you would be a writer/illustrator? Is there a particular person who has inspired and/or supported your work along the way?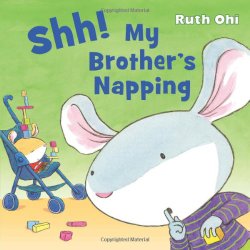 Making stories with pictures has always been incredibly satisfying and I've always loved picture books, but it wasn't until university that I seriously considered art as a career. It just took a little while for me to realize it could be an actual full time job! My family was amazingly supportive and that was huge for me. It still is. My sister, Deb (who writes and illustrates under the name of Debbie Ridpath-Ohi) is my guru for all things internet. Fox and Squirrel Make a Friend is dedicated to my first Great Nephew, Ian who is truly a bundle of joy.
How do you stay connected with your readers? Have you gone on book tours? Do you engage on social media or through a website? Do you visit classrooms, libraries or bookstores?
I do have a website where I post preliminary work sketches, my portfolio, and news that made me happy. It's also where you can find a listing of my upcoming public events, info about booking visits, activity sheets and everything you will ever need to know about my books. Hm, except where to buy them, what their ISBNs are…okay, my website needs work! I've also just joined Instagram where I'll be posting personal illustration and story projects.
Oh, and I've made two booktrailers for "Fox and Squirrel Make a Friend"! The first is only 21 seconds and is the result of my experimenting with stop motion photography. The Second is 56 seconds and includes a snippet of a live drawing demo. I'm the one filming the live demo—it's truly tricky drawing and taping at the same time! Both trailers can be found on my website and YouTube.
What are the joys of being an author / illustrator? What do you derive your greatest pleasure from?
Just doing the work—writing, revising, scribbling, painting. Finding the perfect balance between the words and the drawings. But I honestly don't think a picture book really comes into being until a reader finds it. Seeing or hearing about someone who enjoys the book—that's an incredible source of pleasure for me.
Seeing students use my books or brainstorming tips for their own stories and pictures is super awesome. One of the greatest letters I've ever received was after a presentation from a young child, which read:
"Now I love to right."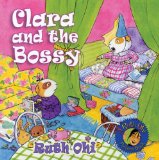 If you weren't an author / illustrator, what sort of work do you envision yourself doing? Have you had other careers or do you have another career now?
In the summers, as a teen, I've worked as a florist, a daycamp counselor, a city special events co-ordinator. As an adult I've been fortunate enough to illustrate and write full time. If I wasn't an author/illustrator, I'd very much love to work with young people in the creative arts.
Do you do school or library presentations? If so, please briefly describe topics/ geographical limitations.
I have enjoyed presenting to many schools, libraries, conferences and family festivals across Canada. It's definitely one of my favourite aspects of this job—sharing words and pictures with adults and kids. And my presentations are easily adapted to suit any age group.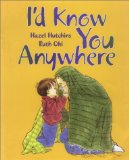 Presentations typically include a digital slideshow demonstrating where I get my ideas from. I show character sketches, storyboards and how I draw to brainstorm new ideas. Also included are Q&A, some original artwork and an interactive drawing demonstration. The last 10-15 minutes may be a hands on workshop where participants are very keen to try a brainstorming activity that I tailor especially for that audience. I enjoy speaking one on one to as many as possible about their work during this time. Typically a school or library visit is 45-60 minutes. A maximum audience size of 120 works well for JK/SK through Grade 8. Numbers may increase for older audiences.