Discover Wonderful Classic Picture Book: No, David!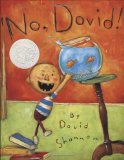 No, David! written and illustrated by David Shannon
Classic picture book published by Blue Sky Press, an imprint of Scholastic
I have shared No, David! with dozens of preschool age children and, without exception, this is a picture book that they understand, appreciate and relate to. David is a child who can't seem to do anything right. Whether reaching for a cookie jar, eating dinner, taking a bath or practicing his baseball swing, David finds himself in trouble. Parenting this boy must be quite a challenge for his ever-patient mom.
For a child who has had a rough day, David is the perfect antidote – another child who gets into trouble more often than he does. For parents, there is a reminder that mistakes happen and forgiveness is divine.
A wonderful starting point for discussions about rules and good behavior, No, David! is also an opportunity for young readers to make inferences and predictions. Most children will benefit from the opportunity to witness David making poor choices and yet still sharing an affectionate hug with his mom at the end of a tough day. Beginning readers will enjoy the predictable text and the repetition.
1999 Caldecott Honor Book
National Education Association Teachers' Top 100 Books for Children
SLJ's Top 100 Picture Books
No, David! at Amazon.com
No, David! at Amazon.ca
Our No, David! Pinterest Board
Follow Storytime Standouts's board No, David! written and illustrated by David Shannon on Pinterest.