Munsch's We Share Everything – A Super Way to Celebrate Pink Shirt Day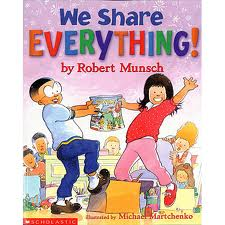 We Share Everything! written by Robert Munsch and illustrated by Michael Martchenko
Picture book about kindergarten and sharing published by Scholastic
While not strickly speaking an "anti-bullying" resource, We Share Everything!
is a story about getting along – with a pink twist. A perfect book to use in a kindergarten class to celebrate Pink Shirt Day.
Amanda and Jeremiah's first day of kindergarten is filled with clashes. When Amanda selects a story from the bookshelf, Jeremiah demands that she give it to him. Their noisy conflict draws the attention of an enthusiastic kindergarten teacher who gushes, "This is kindergarten. In kindergarten we share. We share everything." As the day progresses, the kindergarten teacher shares these same pearls of wisdom through conflicts with building blocks and paint spatters. She remains unflappable until the youngsters take heed of her advice and decide to share their clothes. "The teacher came back and said, "Oh Jeremiah and Amanda. You're sharing, and you're learnning how to act in kindergarten, and you're being very grown-up, and Jeremiah, I really like your… PINK PANTS! Jeremiah, where did you get those pink pants?" A fun look at sharing and getting along, best for children aged four to six.
Listen to Robert Munsch share the story with an audience
We Share Everything! at Amazon.com
We Share Everything! at Amazon.ca