Meet Children's Book Author Karen Scheuer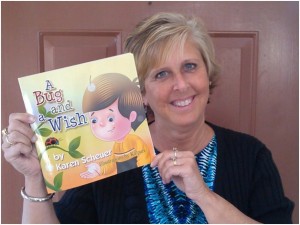 Karen Scheuer is a wife, mother, and teacher. She lives in Newtown, Pennsylvania, and has been married to her high-school sweetheart for 29 years. The author and her husband have a 23-year-old daughter and a 20-year-old son. She enjoys calligraphy, knitting, making jewelry, traveling, reading, and never turns down an offer to dine out. She currently teaches second grade in the Council Rock School District in Bucks County, Pennsylvania.
Karen knew she wanted to be a teacher since she was four years old. When she was in high school, she wrote her first children's book. She hopes to publish that book someday too. She has been teaching elementary-aged children for 25 years.
Twitter account @KarenScheuer1
Tell us about your latest published children's book. Who do you think should read it? What are you most proud of?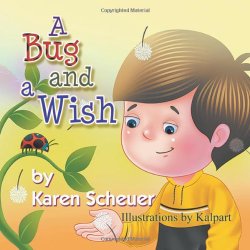 My book is about teasing and bullying. Here is the summary:
When Tyler is teased by the other boys, his good friend, Danae, encourages him to give the boys A Bug and a Wish. When Tyler finds a ladybug and a dandelion seed, he is convinced that this is what Danae means. As his friend helps him learn the true meaning of her advice, Tyler soon discovers the solution to his problem.
This book teaches kids to use the "bug and a wish concept." This subject is dear to my heart because bullying affects how children view themselves. When they view themselves poorly, it can then affect their schoolwork and home life. I hope my book, A Bug and a Wish, will help children stand up for themselves, and encourage bystanders to get involved. It's a great read aloud for teachers to get their students to discuss this subject. It's also a good book to read at the beginning of the school year.
A Bug and a Wish at Amazon.com
A Bug and a Wish at Amazon.ca
When did you realize that you would be a writer/illustrator? Is there a particular person who has inspired and/or supported your work along the way?
I actually wrote my first children's book in high school when I was in a "future educator" class. I am hoping to publish that book next. My husband, Bob, has encouraged me and supported me, and he is the one who suggested I should publish the book I wrote in high school, next.
Tell us about your experiences sharing your book with children. Has anything unusual / endearing / funny / unexpected happened?
The students in my class knew I was in the process of publishing a book this school year. I would update them when I received the illustrations, or when the cover was ready, etc. When I finally brought the finished book into school, I started to read it to them. I showed them the dedication page, and asked what authors put on that page. (I was trying to present the book as a teaching lesson). The students were all wide-eyed, but one student just put his hands on his cheeks, and excitedly screamed, "Just read it already!" It was so cute.
How do you stay connected with your readers? Have you gone on book tours? Do you engage on social media or through a website? Do you visit classrooms, libraries or bookstores?
Since this is my first children's book, I haven't gone on book tours yet, but I definitely want to. I did my first ever Meet and Greet book signing at a Book shop in Peddler's Village, Bucks County, PA, on June 14th, and I was very excited. I have a Facebook page dedicated to my book, and people have posted photos of kids reading the book, and one of my friends even posted a photo of tea towels she sewed for my book signing.
What are the joys of being an author / illustrator? What do you derive your greatest pleasure from?
Something unbelievable happened with my book. My son and daughter's names are the names of the characters in the book. In the story, Tyler finds a ladybug, and puts it in his pocket because he thinks this is what Danae means by "A bug". The day AFTER my son, Tyler, read the book, a ladybug landed on his hand! This has never happened to him in his life. He quickly took a photo of it, and sent it to me. I actually thought it was a "God thing," and I that it was so cool!
Do you do school or library presentations? If so, please briefly describe topics/ geographical limitations.
I would LOVE to do school library presentations, but I am currently a classroom teacher, so I cannot do that at this time. My goal is to retire from teaching in a couple years, have two published books, and then travel to schools to read my books to kids! I would definitely be interested in doing library presentations in the summer months. I live in Bucks County, PA.
The Name of your publisher Strategic Book Publishers