Wonderful Canadian Picture Books to Read to Your Child
I couldn't possibly create a list of Top Ten Canadian Picture Books or Even Favorite Canadian Picture Books – there are far too many wonderful Canadian picture books to consider.
For this list, I selected great Canadian picture books for a read aloud setting – perhaps circle time in a classroom or storytime in a library. All of the authors are Canadian. In a couple of instances the illustrators are not.
Many of these authors and illustrators have created several wonderful books for children. We invite you to use this list as an introduction to wonderful Canadian Picture Books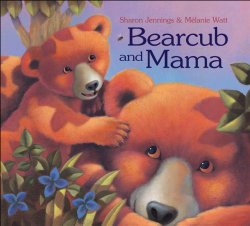 Bearcub and Mama written by Sharon Jennings and illustrated by Mélanie Watt
Canadian Picture Book about the relationship between mother and child published by Kids Can Press
Rich, warm, luminous illustrations enhance the story of a young cub and his mama. As the cub grows, he gains independence and gets separated from his loving, supportive and encouraging mother. Thankfully, he remembers the lessons she taught him and returns, through a snowstorm, to their cave. When he awakens in the morning, she is right there beside him. A lovely and reassuring story, best suited for preschool children.
Bearcub and Mama at Amazon.com
Bearcub and Mama at Amazon.ca
Also by Mélanie Watt – Scaredy Squirrel and Chester's Masterpiece. Also by Sharon Jennings – No Monsters Here
---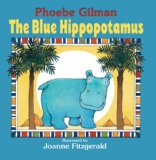 The Blue Hippopotamus – written by Phoebe Gilman and illustrated by Joanne Fitgerald
Canadian picture book published by Scholastic Canada
A finalist for the 2007 Governor General's Literary Awards, The Blue Hippopotamus is the story of a little hippo who falls in love with the Pharoah's daughter. When he comes to the sad realization that the young girl will not love a hippo, he seeks the help of a magician and is changed into a clay toy. His love for the girl endures for many years and, when he observes her loneliness as a young woman, he unselfishly wishes for her happiness. His generosity is magically rewarded and he is once again transformed.
Blue Hippopotamus at Amazon.com
Blue Hippopotamus at Amazon.ca
Also by Phoebe Gilman – Jillian Jiggs and Something From Nothing. Also by Joanne Fitzgerald – Yum! Yum!!: Delicious Nursery Rhymes
---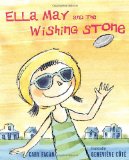 Ella May and the Wishing Stone written by Cary Fagan and illustrated by Geneviève Côté
Canadian picture book about friendship, problem solving published by Tundra Books
While on a trip to the beach, Ella May is fortunate to find an extra special stone – a stone that has a white line all around it. Certain that her extra special stone has the power to grant wishes, Ella May decides that her first wish should be to show the stone to all of her friends. Before long, Ella May's friends have gathered 'round her, hoping to touch the magical stone. When Ella May refuses to let them hold it, they decide to find their own special stones. Although the children find all sorts of interesting stones, none is equal to Ella May's.
"You're not nice," Manuel said. He put his stone in his pocket and tromped down the sidewalk to his own house.
Ella May watched him go, "Hey," she said, "I wanted Manuel to go home and he did. Thank you again, wishing stone."
Unable to find their own wishing stones, Ella's friends come up with a creative but short-lived solution to the problem. Unfortunately, nothing resolves the conflict amongst the children; Ella May wants to be the only person with a wishing stone and she wants to keep her friends. The other children are resentful of the stone and of Ella May.
When Ella May finally realizes that having a wishing stone is not nearly as special as having friends, the stage is set for a happy and imaginative solution that reunites the group.
A great choice for children aged four and up, Ella May and the Wishing Stone is a (32 page) story that invites readers to think about what it means to be a friend, how best to share treasured items and imaginative ways to solve problems.
Note – illustrations and children's names depict a racially diverse group of friends.
Ella May and the Wishing Stone at Amazon.com
Ella May and the Wishing Stone at Amazon.ca
Also by Cary Fagan – Book of Big Brothers and My New Shirt. Also by Geneviève Côté – What Elephant?
---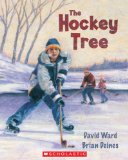 The Hockey Tree written by David Ward and illustrated by Brian Deines
Canadian picture book published by Scholastic Canada
This is a favourite wintertime picture book that beautifully captures a Canadian winter day. Set in Saskatchewan, Owen and Holly are excited because Humboldt Lake has finally frozen over and it is a perfect morning for a spirited game of pond hockey. The two children are excited to drive to the lake with their dad and before long their skates are laced and the three are laughing and playing together. Unfortunately, just as the family starts to talk about taking a break and enjoying a mug of steaming hot chocolate, Holly smacks at the puck and it flies across the frozen lake and into an ice fishing hole.
The children are terribly disappointed that they've lost their puck and assume that the game will have to end. Dad is not quite so willing to concede. He helps Owen and Holly to find a fallen poplar tree near the lake. Once a suitable tree is found, dad saws a piece from the trunk to create a wooden puck and the hockey game resumes.
Brian Deines' luminous illustrations include icy cold winter scenes that are made warm by his depiction of the joy of playing a favourite sport with friends and family.
A lovely book to share with young children, this is one of my favourite wintertime picture books.
The Hockey Tree at Amazon.com
The Hockey Tree at Amazon.ca
Also by David Ward – One Hockey Night. Also by Brian Deines – Camping and Bear on the Train
---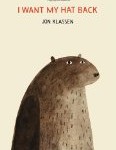 I Want My Hat Back written and illustrated by Jon Klassen
Canadian Picture Book published by Candlewick Press
Poor Bear, he has lost his pointy, red hat. He searches the forest, politely asking, "Have you seen my hat?" He meets Fox, Frog, Rabbit, Turtle, and Snake. None has seen his hat. Bear is bereft and despondent. He frets that his hat is gone forever.
When Deer finally asks, "What does your hat look like?" Bear remembers something important.
Picture book, I Want My Hat Back is a breath of fresh air with a hint of mystery and a touch of revenge.
Best suited to older readers, adults and children (aged five and up) will thoroughly enjoy the opportunity to "read between the lines" and enjoy Klassen's gallows humor.
Would I read it to a group of three year olds? "Maybe not." Would I read it to a group of jaded six year olds who think they know all there is to know about picture books? "You betcha!"
Storytime kit from Candlewick Press – includes I Want My Hat Back activities.
I Want My Hat Back at Amazon.com
I Want My Hat Back at Amazon.ca
Also by Jon Klassen – This is Not My Hat and Cat's Night Out
---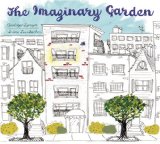 The Imaginary Garden by Andrew Larsen and illustrated by Irene Luxbacher
Canadian Picture Book published by Kids Can Press
Theo is blessed to have a very special relationship with her grandfather, Poppa. When Poppa moves into an apartment, they decide to create an imaginary garden on his balcony. The first Saturday of spring is marked by the arrival of a giant, blank canvas. Before long, Poppa and Theo have created a long stone wall and beautiful blue sky. Soon they have added beautiful spring flowers to their masterpiece. When Poppa leaves for a holiday, Theo worries about tending their special garden by herself. With gentleness and love, Poppa assures her that she will know what will nurture their imaginary garden. This lovely picture book would be a great gift for a special Grandpa.
The Imaginary Garden at Amazon.com
The Imaginary Garden at Amazon.ca
Also by Andrew Larsen – In the Tree House
---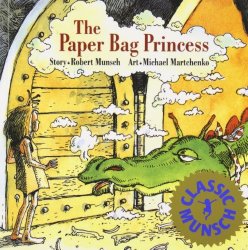 The Paperbag Princess written by Robert Munsch and illustrated by Michael Martchenko
Canadian picture book published by Annick Press
Princess Elizabeth is betrothed to Prince Ronald when a large dragon destroys her kingdom, including all of her clothing. Wearing nothing but a paper bag, the very resourceful Princess Elizabeth sets out to rescue her fiancé. When Elizabeth finds the dragon's cave, she challenges the dragon to prove that he can burn up five forests with just one firey breath. The flattered dragon not only burns up forests, he also flies around the world until exhausted.
Once the dragon is well and truly asleep, Elizabeth finds Prince Ronald who is not nearly as grateful as he ought to be. He is unimpressed with her hair and unimpressed with her clothing and he'd rather she looked like a princess.
A delightful story that depicts the princess as rescuer and the prince as a shallow ingrate, The Paperbag Princess is a great resource for exploring stereotypes.
The Paper Bag Princess at Amazon.com
The Paper Bag Princess at Amazon.ca
Also by Robert Munsch – Love You Forever, We Share Everything and many other books. Also by Michael Matchenko – Mortimer and I Have to Go!
---

Picture a Tree – written and illustrated by Barbara Reid
Canadian picture book published by North Winds Press, an imprint of Scholastic Canada
Marvelous Plasticine illustrations may initially distract young readers from the thought-provoking text in Picture a Tree. Using a combination of Plasticine and paint, Ms. Reid has created beautiful, richly detailed images of trees and the variety of people living, working and playing near them.
Readers are encouraged to notice how trees, whether enormous or freshly planted, change through the year, how various creatures dwell in trees and how the life cycle of a tree can be viewed metaphorically. A variety of perspectives are also shown as Ms. Reid illustrates shadows of trees, more than one reflection and the view from above a forest of trees.
You may see a drawing on the sky. A game of dress-up. The first drops of colour then all the art supplies at once.
Simply beautiful, Picture a Tree is sure to inspire young artists and encourage environmental awareness. It is suitable for children aged four and up.
Picture a Tree at Amazon.com
Picture a Tree at Amazon.ca
Also by Barbara Reid – The Subway Mouse, The Night Before Christmas, Perfect Snow, Sing a Song of Mother Goose
---

Pink – written by Nan Gregory and illustrated by Luc Melanson
Canadian Picture book published by Groundwood Books
We've all seen them, "The Pinks," Vivi calls them, but not out loud. Every day at school they parade their glory – from hair bows to tippy toes, every shade of perfect pink."
Poor Vivi would love to be just like "The Pinks." Her rather ordinary world is not at all pink. She lives, with her blue collar parents and her baby brother, in a brown working class world that leaves her yearning. Her parents are not unaware of her desire to be a "Pink," they have had their share of disappointments but they have found ways to accept and live within their means.
One day, when Vivi is running an errand for her mom, she discovers the ultimate pink treasure. She sees a beautiful doll, dressed in a cascading pink bridal gown. It is displayed prominently in the window of an exclusive neighbourhood shop. Vivi feels she must have it so she does chores and small jobs all winter to earn money. She saves and saves in order to buy the beautiful doll. She is certain that having the spectacular doll will enable her to live like the wealthy "Pink" girls she sees at school.
Pink is a marvelous story that is both poignant and thoughtful. Vivi wants so much to be a "Pink" and her young heart is filled to bursting with desire for the doll. When Vivi witnesses one of the "Pinks" leaving the store with "her" doll, she is heartbroken but ultimately enriched by the experience.
It would have been so easy to create a magical happy ending and have Vivi's world become a pink one. Thankfully, Ms. Gregory understands that life is not always fair and that if we take time to look, beauty (and especially pink) is all around us. When sharing this thoughtful story with a child, be sure to take note of Mr. Melanson's illustrations and especially his masterful depictions of Vivi's emotions.
Very highly recommended, for children four and up.
Pink at Amazon.com
Pink at Amazon.ca
Also by Nan Gregory – How Smudge Came Also by Luc Melanson – Book of Big Brothers
---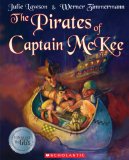 The Pirates of Captain McKee! written by Julie Lawson and illustrated by Werner Zimmermann
Canadian Picture Book published by Scholastic Canada
Originally published as Whatever You Do, Don't Go Near that Canoe, The Pirates of Captain McKee is a rollicking adventure story that will have broad appeal to young children, especially those who love pirates.
A nominee for The 1996 Canada Council for the Arts Governor General's Literacy Award for illustration, The Pirates of Captain McKee tells the story of two children, a brother and sister, who are warned not to go near a canoe. The warning, given by Captain Kelsey McKee, is accompanied by a wink so the children are undeterred. They don lifejackets and climb into the canoe. Before long they find themselves well away from the dock.
Through fast-running currents, through slow-rolling tides,
Far into the fading light,
Through sun flecks and sunset, through dusk's purple haze,
The canoe sped into the night.
Although returning to the safety of home seems a great idea, the children are not in control. The magical canoe is deciding their course. Just before dawn, the canoe and the children approach a pirate ship at anchor and many, many intimidating pirates onshore. The pirates recognize the canoe and decide to teach the children a lesson. Frightened about their predicament, the children fear the worst until they notice a "marvellous smell… There's marshmallows roasting round here!"
Gorgeous illustrations and delightful rhyming text make this a wonderful read aloud for children aged four and up.
The Pirates of Captain McKee at Amazon.com
The Pirates of Captain McKee at Amazon.ca
Also by Julie Lawson – The Klondike Cat, Emma and the Silk Train Also by Werner Zimmerman – Pippin the Christmas Pig and Snow Day
---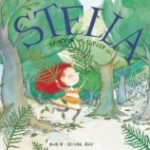 Stella, Fairy of the Forest – written & illustrated by Marie-Louise Gay
Canadian Picture book published by Groundwood Books
Marie-Louise Gay's picture books about Sam and Stella are marvelous. This, their third adventure, begins when Sam asks Stella about fairies. Stella knows just where to find some. She leads Sam on a pleasant walk through gorgeous meadows, across a sparkling stream and into a magical forest.
This Stella and Sam story is truly lovely especially in its treatment of the siblings' relationship. Sam, who is nervous, clearly looks up to his confident older sister and Stella is more than happy to share her knowledge of the outdoors and all things magical with her younger brother.
Ms. Gay's distinctive illustrations have a luminous quality, particularly her depictions of the delightful red-head heroine, Stella. Don't miss it!
32 pages and suitable for children aged three and up. Stella, Fairy of the Forest is well- suited to circle time and could be used as part of a preschool or kindergarten Family or Forest theme.
Marie Louise Gay's website includes printable stickers, colouring sheets, posters and bookmarks
Stella, Fairy of the Forest at Amazon.com
Stella, Fairy of the Forest at Amazon.ca
Also by Marie-Louise Gay – On My Island and Caramba
---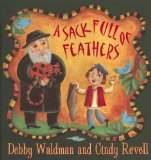 A Sack Full of Feathers
Written by Debby Waldman and illustrated by Cindy Revell
Canadian Picture Book published by Orca Book Publishers
Young Yankel is a storyteller. He overhears bits of news at his father's store and excitedly shares the gossip throughout the village.
One day a wise rabbi gives Yankel a job; he is to put one feather on each doorstep in the village. Puzzled, Yankel willingly distributes the feathers even as gusts of wind send some flying.
When the rabbi subsequently asks Yankel to collect all the feathers and return them to the sack, Yankel comes to understand the danger of gossip.
A delightful folktale is retold in A Sack Full of Feathers with engaging illustrations and warmth.
A Sack Full of Feathers at Amazon.com
Sack Full of Feathers at Amazon.ca
Also by Debby Waldman and Cindy Revell – Clever Rachel
---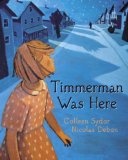 Timmerman Was Here written by Colleen Sydor and illustrated by Nicolas Debon
Canadian Picture Book published by Tundra Books
Timmerman Was Here is written from the perspective of a young girl. We share her nervousness as a stranger arrives at her home. The stranger moves into a bedroom, recently vacated by the girl's grandfather who has gone to live in a residence for seniors. The young girl is not happy about the stranger's arrival but as she watches and interacts with him, she discovers a gentle heart. When the stranger is discovered walking the neighbourhood at night (with a spade and a burlap sack), gossip abounds. The neighbours speculate that he could be a bank robber or responsible for the death of a cat.
Timmerman Was Here is a lovely, thought-provoking picture book that encourages the reader to rethink assumptions and stereotypes. Highly recommended.
Suggested for children 4 – 8
Timmerman Was Here at Amazon.com
Timmerman Was Here at Amazon.ca
Also by Nicolas Debon A Brave Soldier and Thing-Thing
---

Under a Prairie Sky written by Anne Laurel Carter and illustrated by Alan and Lea Daniel
Canadian picture book published by Orca Book Publishers
Under a Prairie Sky features detailed, striking watercolour illustrations and the equally dramatic text. A terrific Canadian picture book read aloud for four and five year olds, Under a Prairie Sky is the story of a farm boy who aspires to be a RCMP Officer when he grows up. While harvesting wheat with his father, he is sent to find his younger brother before a storm arrives at the farm. Knowing that this is a job that will demand the detective skills of a Mounted Police Officer, he quickly changes his clothes, dons a Stetson and mounts his trusty black horse. He follows young Will's trail through the fields and into the wild, taking in flora and fauna native to the Canadian prairies.
Under a Prairie Sky at Amazon.com
Under a Prairie Sky at Amazon.ca
Also from Anne Laurel Carter – The F Team and Tall in the Saddle Also from Alan and Lea Daniel – The Best Figure Skater in the Whold Wide World
---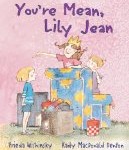 You're Mean, Lily Jean written by Frieda Wishinsky and illustrated by Kady MacDonald Denton
Canadian Picture Book published by North Winds Press, an imprint of Scholastic Canada
You're Mean, Lily Jean tells the story of a new girl who moves into the neighbourhood. Lily Jean is the same age as Sandy and is domineering and a braggart. She joins Sandy and her younger sister Carly for a couple of playdates. Lily Jean does not want Carly to be a part of their imaginary games and each time the three girls play together, Lily Jean dictates what they will play and how they will play. She gives the younger sister, Carly, the less desirable "parts" in their imaginary world. Lily Jean and Sandy are the king and queen, Carly is told to be the dog. Lily and Sandy are cowgirls, Carly is told to be the cow. "She did not want to moo or eat grass, but Lily Jean said she had to if she wanted to play. So she did."
Lily Jean's smug appearance and Carly's bitter disappointment are depicted beautifully by Ms. Denton. Readers will cheer for Carly when Sandy decides she would prefer to play with her younger sister than with an overbearing bully.
You're Mean Lily Jean is best suited to children four and up. It offers many opportunities for children to consider each girl's perspective and ways to resolve difficult social situations.
You're Mean, Lily Jean at Amazon.com
You're Mean, Lily Jean at Amazon.ca
Also from Frieda Wishinsky – Oonga Boonga, Give Maggie a Chance and Please, Louise!