Chester's Masterpiece – laughter is the best medicine for writer's block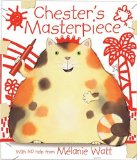 I don't know if it's typical for adults to love picture books as much as I do. Many of the adults in my life; my husband, best friend, and co-workers, love them, but we're all teachers, so maybe it's just us. However, I think that children's books are one of the best stress releases ever. The best ones are those that literally make you laugh out loud.
Chester's Masterpiece written and illustrated by Mélanie Watt
Picture book published by Kids Can Press





For me, this week, that laugh out loud book was Chester's Masterpiece by Mélanie Watt. I've had writers block all week and just happened to read this to my girls and their two friends. I had read Chester, but not his Masterpiece. If you haven't read either, Chester is a cat that thinks he is much more capable of writing a great book than his creator, Mélanie Watt.
In this particular book, Chester appears to be struggling with some writer's block as well! His was much funnier than mine. He hides Mélanie's writing tools so she cannot do her work. They have a witty back and forth through post it notes and sketches. Chester tries hard to create a Masterpiece with Mélanie trying to offer him helpful hints and strongly suggesting he return her tools so she can actually get to work.
This book is truly funny. I am in awe of authors that can create such rich characters without a lot of back story. I am working on a couple of children's books myself and I always find myself adding in details that don't need to be shared. Mélanie's talent for jumping into the story and attracting you to the larger than life characters is inspiring. You can't help but love Chester, or Scaredy Squirrel, another of her awesome characters. You jump into these books, laugh out loud, and feel better just for having read them.
So, if you need to laugh out loud this week, or just distract yourself from your own writer's block, pick up a Mélanie Watt book and you won't be disappointed.
Kids Can Press Chester's Masterpiece Free PDF Download learn how to draw Chester plus storytime ideas and a wordsearch
Chester's Masterpiece at Amazon.com
Chester's Masterpiece at Amazon.ca