The same but different, Sixth Grade Secrets chapter book for middle school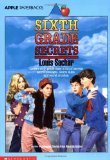 Sixth Grade Secrets written by Louis Sachar
Chapter book for middle grade readers republished by Scholastic
One of my favourite read alouds is Louis Sachar's Sixth Grade Secrets. The main character, Laura, starts a secret club. This leads to a variety of themes including: inclusion, exclusion, friendship, crushes, and cliques. To sum it up: it's sixth grade as all of us knew it. The thing about Louis Sachar's writing is that it is laugh out loud funny. The things his characters say and do make you laugh because you can imagine yourself doing them. This is true of adults and kids. When you can see yourself in characters or their situations, you connect.
What surprised me this year, was how aware I became of language, tone, and subject matter. I read the book for the first time about six years ago. I didn't read it last year or the year before so when I went back to it this year, I just remembered that it's this funny book about two clubs that get started in a school where no clubs are allowed. The characters are quirky and endearing and draw you in. All of this still holds true. The book has not changed. This means that we, or I, have.
There are parts in the book that I now won't read out loud that I'm sure I would have before. I don't know if that is because of my teaching, my audience, the parents of my audience, or a societal change. When the girls start talking about being "flat-chested", I omitted it. When they collect insurance for the secret club so no one will talk, I found myself uncertain if I wanted to say the word "underpants" (which is what they make one girl give to insure she keeps quiet. What really hit home I think, is the hands on bullying behavior that I worried about reading out loud. At one point in the novel, they "mustardize" Gabriel, the main boy and the Laura's nemisis/crush. In the past, certainly when I first read it, I found it quite amusing. This time, however, I used that moment to talk about the bullying that was happening in the scene. How did they feel? How did the characters feel? What would be the result of actions like that?
I realized that times have really changed. The book came out when I was in grade seven. At that time, you probably could have 'mustardized' someone and feared only the retaliation of a similar sort. Perhaps getting egged or 'nicky-nine-doored'. Whether it's kids growing up faster, technology, increasing levels of bullying and awareness, and/or school violence, I couldn't just read this funny book and glaze over the deeper issues. Where in the past, the book was about reading a light and easy end of year book before sending my students to grade six, it has become a teaching tool.
There's actually an ongoing issue in the book where Laura says she never tells a lie. Laura has very unique and creative ways of looking at the definition of 'lying'. Gabriel sees Laura as a chronic liar. This was an excellent opportunity to talk to my students about things like lying by omission, telling the truth, and how others perceive you. Big themes from a book that I'd always kept light. But as time changes, so do the needs of our students. We need to communicate with them and connect with them. What an interesting opportunity to get to know my students in a new way, just by asking who considers Laura to be a liar and who does not.
In closing, it's a great book. I no longer feel comfortable with some of the language, though it's not necessarily bad, but I just skip or adlib what I don't want to read. Regardless of those few spots, it is an engaging tale that the kids love, laugh at, and listen to. If it sparks conversation and debate, that's a bonus.
Lexile Level 520L
Sixth Grade Secrets at Amazon.com
Sixth Grade Secrets at Amazon.ca
Sixth Grade Secrets was published as Pig City in the UK.
Pig City at Amazon.ca