Eight Keys by Suzanne LaFleur Reviewed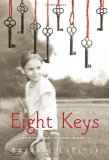 Eight Keys by Suzanne LaFleur
Young adult fiction published by Yearling, an imprint of Random House
I swear, I'm not the Paula Abdul of book reviews; I do not think that every book I read is amazing and moving and captivating. It just so happens that, this year, I have been incredibly fortunate to choose book after book that is amazing, moving, and captivating. Eight Keys, by Suzanne LaFleur, is beautiful. It weaves together the themes of finding yourself, knowing yourself, experiencing loss, friendship, bullying, acceptance, and family. Elise is a young girl who lost both her parents. She lives with her aunt and uncle, who I wish I lived with because they're real and tangible characters. She has a best friend who she thinks she may have outgrown. She gets bullied mercilessly by the popular girl at school.
In the midst of all this, she is turning 12, which in itself can be life changing. She discovers a key and eight doors in her uncle's workshop. The key opens one of the doors. The book follows her journey, as she unlocks each of the doors and discovers something about who she was, who she is, and who she could be. Each room also gives her insight into where she comes from. The most touching and heartwrenching part, for me from my parenting perspective, was that, knowing he was going to die, her father spent his final days putting each of these rooms together for her. As she explores all of them, she gets to know the mother and father she doesn't remember. She also gets to learn about the people who have raised her.
Elise is such an honest and real character. There are parts of the book where we didn't like her very much (my class and I) but the honest part comes from the fact that we know Elise doesn't like herself very much at those moments either. The class had great discussions around different topics, such as: what do you do if you think a friendship is over? Do you always have to get along with a friend? What do you do when you are bullied? Has a friend ever changed on you so that you felt like you didn't know them anymore? These are real things that I can remember dealing with in my teen years and I think they are things we still deal with as adults. Life is about change and it isn't easy. People come into your life for different periods of time. We don't always know if they're in our lives for the long term. Even as adults, we can struggle to make and keep friends because we change.
I love how Elise came to her own conclusions. Her aunt and uncle guided her and supported her. They didn't like some of her choices, but they were firm and fair with her and, as a result, she saw herself more clearly.
Eight Keys is a beautiful book. It is the kind of book that an author should aspire to write. It held the audience captive, created discussion, allowed for introspection, and connected us to the main characters. At the end of the book, I found myself wanting to know Elise ten years from now. I didn't want to say goodbye to her and neither did the kids. When I read the last line of the book, one of the students said, "What? There's no more?" I felt exactly the same.
Lexile Level 590L
Eight Keys at Amazon.com
Eight Keys at Amazon.ca