The False Prince – Delivers Adventure, Mystery and Suspense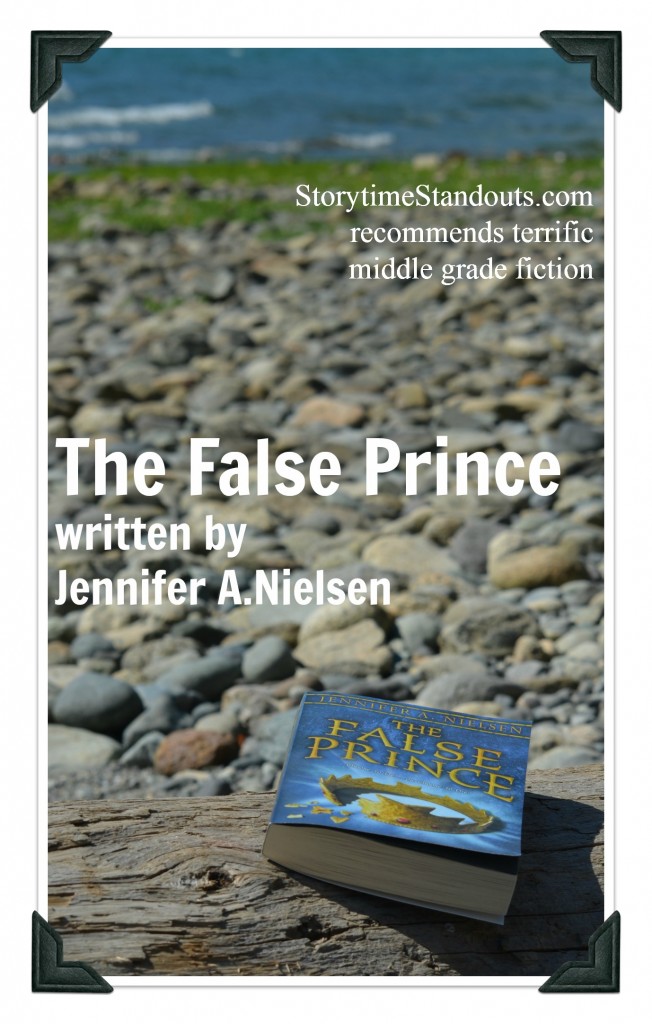 Storytime Standouts recommends terrific middle grade fiction including The False Prince
The False Prince written by Jennifer A. Nielsen
Juvenile fantasy/adventure novel, the first book in The Ascendance Trilogy published by Scholastic
There's nothing better than enjoying a terrific book while on holidays and I had the good fortune to tuck The False Prince into my bag when we went away last month. We were headed camping and our beach site was gorgeous. It wasn't long before I sat down on and entered the captivating world of The False Prince.
King Eckbert, Queen Erin and Crown Prince Darius all die under very mysterious circumstances and one of their noblemen initiates devious plan. His intention is to substitute an orphan for the king's long lost son and only remaining heir. Conner envisions the orphan will impersonate Prince Jaron, return "home" and ascend to the throne. Once installed, he imagines the orphan will have no choice but to do his bidding.
Conner scoops up four orphans from the streets and takes them to his vast residence. Once there, they share a room as they learn to sword fight and ride horses. The boys are schooled in King Eckbert's family history and are taught to read. In short, Conner will not be satisfied until each of the boys learns to behave as a prince should.
Sage is the most outspoken and defiant of the orphans. He challenges and annoys Conner whilst outwitting the other potential impostors. Sage moves about secret passageways while his rivals are sleeping and he is punished repeatedly for his misdeeds.
Connor lifted my face and inspected it for cuts and bruises. "You're none the worse after a stay in my dungeons. I hope the experience humbled you."
He took the blank expression on my face as an answer and continued, "You're a difficult young man, Sage, but I suspect that comes from your lack of discipline and supervision, which means I can train it out of you."
Well suited to middle grade readers, including reluctant readers, The False Prince is an exciting, accessible fantasy/adventure that will have special appeal for boys. Highly recommended.
The False Prince is available in hardcover, paperback, audiobook and ebook formats.
The False Prince: Book 1 of the Ascendance Trilogy at Amazon.com
The False Prince: Book 1 of the Ascendance Trilogy: Book 1 of the Ascendance Trilogy at Amazon.ca
The False Prince won a 2012 Cybil Award in the Fantasy & Science Fiction Category