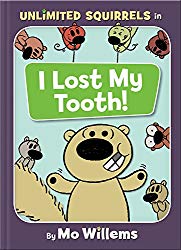 Unlimited Squirrels in I Lost My Tooth! written and illustrated by Mo Willems
Generously illustrated book for beginning readers published by Hyperion Books for Children
I have hosted a Little Free Library (LFL) outside my home for the past four years. My LFL is limited to children's books. Recently, one of my neighbors has been adding brand new books(!) to it fairly often. Recently, he or she left a copy of hot-off-the-press Unlimited Squirrels in I Lost My Tooth!
A terrific follow-up to Mo Willem's Elephant and Piggie series, this is a book that will have great appeal for new readers. Bright, bold, graphic illustrations and fun, expressive text combine to tell the story of a search for a squirrel's missing tooth.
When a team of enthusiastic squirrels needs to fact-check, Research Rodent adds background information about teeth to an otherwise silly story. Boys and girls who are at about a grade 1 or 2 level will enjoy the "inside" joke about a tooth that has been lost. The Table of Contents, irreverent endpapers that identify each of the squirrels by name and the antics of the furry-tailed characters make for a great fun.
Follow this link to our free Squirrel Theme printables and picture book suggestions.
I Lost My Tooth! (Unlimited Squirrels) at Amazon.com
I Lost My Tooth! (Unlimited Squirrels) at Amazon.ca