Jody Discovers Story People by Brian Andreas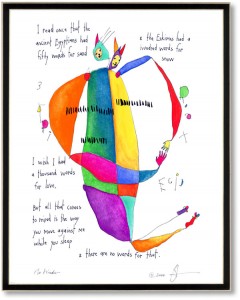 On a trip through an airport, Jody discovers the work of Brian Andreas and his Story People
While passing time at the Sea-Tac airport, I wandered into one of those everything-and-then-some stores. In between the hand-crafted cards, joke gifts, and eclectic jewelry, an interesting and colorful print caught my eye. Really, it seemed more like a scrawled version of a stick person. But it was the words that accompanied the image that grabbed me. It said:
I read once that the ancient Egyptians had fifty words for sand & the Eskimos had a hundred words for snow. I wish I had a thousand words for love, but all that comes to mind is the way you move against me while you sleep & there are no words for that.
Just like that, I was fascinated. Along with dozens of prints, all showing oddly shaped figures and sketches and sharing beautiful words, there were books. I had never heard of the author, Brian Andreas before. Flipping through his books, I was amazed at the power of his words and the fact that he could be so moving without truly defining characters. Somehow, without even giving them names and using, what seem like, pieces of conversation, he pulls you in and makes you feel like someone understands. I used all of my "mommy-needs-a-few-minutes-to-look-around-by-herself" time standing at that small shelf reading everything I could and trying to decide which print was my favourite. It's not often you can read a few paragraphs that have the power to make your heart skip or your eyes tear; well, for most people, anyway.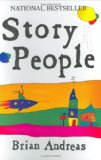 As I read these little snippets of conversation between unidentified characters, I felt completely drawn in and captured by them. Some of the conversations had an almost "Time Traveller's Wife" feel to them. Then there are sketches that accompany the words; sketches that should be amusing, but with the words, just seem beautiful. There's so many times in life, as kids and adults, that we feel alone, that people don't 'get it'. It's part of what makes a good book so important~connecting to characters makes us feel validated, understood, accepted, and "normal". Reading through Mr. Andreas' book Trusting Souls, I felt that way. It was so compelling that I bought it for my husband, who I'm sure would have rather had something else, from another store entirely. However, sometimes someone else has already written the words we feel we can't express properly. When that happens, as adults and as children, it matters. It stays with us.
On his website, Mr. Andreas says "we are all story people". I like that. Because we are. We're all just trying to do our best, make connections, and make sense of what we see and think and feel.
His books and prints show the power words can have and I think that, in the classroom, that's a strong message. Words matter. How we say them or write them or think them. The words we hear or see can leave a lasting impression on us. This is why it's important to choose wisely what we say and what we read.
Here are a few pieces that will stay with me; that matter:
"Is there a lot of things you don't understand? she said and I said pretty much the whole thing and she nodded and said that's what she thought but it was nice to hear it anyway and we sat there in the porch swing, listening to the wind and growing up together"
With this phrase, he draws an interesting picture and scribbles that it is a "doorway that only lets some stuff through, but you never know what it's going to choose so it's hard to plan for the future".
"Remember to use positive affirmations. I am not a dork is not one of them."
This one is called "Anxiety Break":
"things have been going so well that she's taking an anxiety break to keep centered"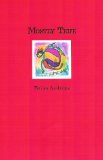 One more, from "Mostly True" :
"We lay there and looked up at the night sky and she told me about stars called blue squares and red swirls and I told her I'd never heard of them. Of course not, she said, the really important stuff they never tell you. You have to imagine it on your own."
Story People at Amazon.com
Story People at Amazon.ca
Trusting Soul at Amazon.com
Trusting Soul at Amazon.ca
Mostly True at Amazon.com
Mostly True at Amazon.ca