The Reading Zone by Nancie Atwell – Discover Ways to Help Teen Readers
Do you share my concerns about inspiring preteen and teen readers?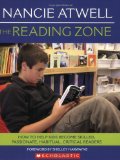 The Reading Zone written by Nancie Atwell
Professional teaching/parenting resource about teen readers published by Scholastic
Over the weekend, I had an opportunity to enjoy reading Nancie Atwell's The Reading Zone: How to Help Kids Become Skilled, Passionate, Habitual, Critical Readers
.
I am always interested to read and hear leading educators suggest ways to ensure that children, preteens and teens become "Skilled, passionate, habitual, critical readers" because for so many teen readers this does not happen. Ms. Atwell's approach to reading reading is practical and passionate. She reminds all parents of teens that everyone has reading homework and there is no more important homework than reading.
She identifies the key ways a teen reading 'class' can be transformed into a teen reading 'zone.' She also discusses the three categories of book difficulty: Holidays, Challenges and Just Rights. Her chapters on teen reading include Choice, Ease, Comprehension, Booktalking, Boys, Commmunicating with Parents and High School. The book's appendix lists How to Create a National Reading Zone.
This is a book that every parent of a preteen or teen reader and most teachers should read. It is both informative and inspiring.
Link to the Center for Teaching and Learning in Edgecomb, Maine
The Reading Zone: How to Help Kids Become Skilled, Passionate, Habitual, Critical Readers at Amazon.com
The Reading Zone: How to Help Kids Become Skilled, Passionate, Habitual, Critical Readers at Amazon.ca
Meet Nancie Atwell in The Reading Zone