3 Favourite Stories Transformed Into Terrific Picture Books
Three familiar tales are given ingenious 'make overs.' Readers are sure to enjoy comparing these terrific picture books with the traditional stories that inspired them.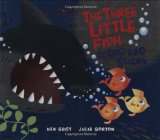 The Three Little Fish and the Big Bad Shark written by Ken Geist and illustrated by Julia Gorton
Picture book published by Cartwheel Books, an imprint of Scholastic
When Mama Fish sends Jim, Tim and Kim off to make their homes in the deep blue sea, a Big, Bad Shark is watching. It is not long before he knocks at a door and roars, "Little Fish, Little Fish, let me come in." A really delightful addition to a picture book collection, youngsters will enjoy chiming in when the Little Fish replies, "Not by the skin of my finny, fin, fin!" Bold, bright illustrations complement this clever adaptation and ensure a very happy ending.
The Three Little Fish and the Big Bad Shark at Amazon.com
The Three Little Fish and the Big Bad Shark at Amazon.ca
---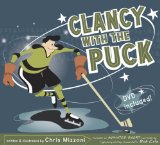 Clancy With the Puck written and illustrated by Chris Mizzoni
Picture book published by Raincoast Books
Just as Casey could hit a baseball, Clancy is a star when it comes to hockey. When Clancy Cooke joins the Hogtown Maple Buds, hopes are raised for a Stanley Cup win. Alas, in the final moments of a playoff game, when Clancy takes a penalty shot, "The puck deflected off the post, like a comet to the sky. The Buds had lost the Stanley Cup – and the fans went home to cry." A sure winner, especially for hockey fans and those familiar with the classic story of Casey at the Bat.
Clancy with the Puck at Amazon.com
Clancy with the Puck at Amazon.ca
---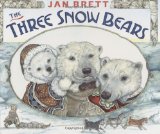 The Three Snow Bears written and illustrated by Jan Brett
Picture book published by Putnam Juvenile, an imprint of Penguin Books
When Baby Bear's soup is too hot and burns his mouth, he and his snow bear family leave their igloo and go for a stroll. Meanwhile, Aloo-ki is searching for her sled dogs. She happens upon the bear family's igloo and is soon inside, tasting soup, trying on boots and sleeping in Baby Bear's "just right" bed. Beautifully illustrated, this is a truly inspired adaption of Goldilocks' story.
The Three Snow Bears at Amazon.com
The Three Snow Bears at Amazon.ca
---