Parenting: What Exactly Am I Expecting – of Myself?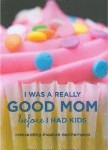 I Was a Really Good Mom Before I Had Kids: Reinventing Modern Motherhood written by Trisha Ashworth and Amy Mobile
Parenting book published by Chronicle Books
Back after an all-too-short "Spring Break." The boys returned to school this morning and I scrambled around doing some of the chores I'd put off while they were home. Well, actually, "home" is a bit of a stretch — six hockey games in four days meant we weren't actually at home very much.
I did manage to read quite a number of (mainly kids') books during the break (after arriving at the rink 60 minutes prior to each game). My favorite of the week was not a children's book. I Was a Really Good Mom Before I Had Kids – reinventing modern motherhood was such a compelling parenting title that I couldn't wait to delve into it. I was not disappointed – it was thought-provoking, funny and reassuring.
The quizzes, commentary and quotes encouraged me to consider (and reconsider) my own 'Never-Ending To-Do List" and My Expectations for Myself. I am still thinking about how I can match my expectations with the real world and, at the same time, honor my whole (not just parenting) self.
In the meantime, I have decided to form a GET A GRIP CLUB – especially for hockey moms — because really, we all need to GET A GRIP and enjoy each and every day. Beating ourselves up because we haven't crossed every last thing off our "to-do" list or met an inflated list of parenting expectations, is far too destructive to ourselves and our family life.
I Was a Really Good Mom website (including blog)
I Was a Really Good Mom Before I Had Kids at Amazon.com
I Was a Really Good Mom Before I Had Kids at Amazon.ca