The Reading Response – One Way to Turn Kids Off Reading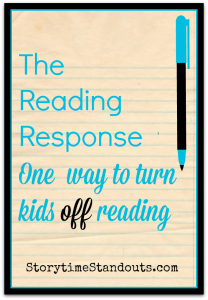 Monday morning and just five more school days until Spring Break. Boy, are we ready for a break from routine; swimming lessons, hockey, elder care and school have taken their toll this winter. It is time to sleep more, enjoy extra family time together and go on some fun outings.
It is time for a break from the reading response.
Once again this weekend, both my sons had (the dreaded) Reading Response homework. My elder boy worked on a title page for his assignment, due next Friday. He is worried that he hasn't done enough work and this will hurt his mark in reading. He's likely right — although an enthusiastic reader of fiction and non fiction, pausing to 'respond' is not his strong point. Rather than analysing, he's much more likely to pick up another book and move on.
My younger boy had already completed (yet another) chapter summary for Owls in the Family, but he had not yet written his 'response' to the chapter. His last response explained that we recently visited a bird sanctuary and saw a small owl — pretty cool. Unfortunately, he didn't reveal his feelings about the experience (gosh, he didn't reveal them to me either!!!)
Now, I ask you, when was the last time you sat and did a multi-faceted report on a book you'd read (as my grade six boy is doing) or a chapter-by-chapter summary and response (grade 4)? I think Jim Trelease is absolutely right when he says, "let's eliminate not all but much of the writing they're required to do whenever they read… We adults don't labor when we read, so why are we forcing children to?" (in The Read-Aloud Handbook
)
Jim Trelease is a favourite of mine. He really turned me on to creating a home environment that nurtures readers. He also encouraged me to get involved at the school level. His list of recommended read-alouds has been invaluable as we moved from picture books to short novels to full length novels.
So I say, "Thumbs Down" to apparently endless book reports and "Thumbs Up" to a Spring Break that includes an enticing stack of books – that, when finished, require nothing more than a sigh of satisfaction.
The Read-Aloud Handbook at Amazon.com
The Read Aloud Handbook at Amazon.ca