Stella, Fairy of the Forest – Luminous Stella is Always a Star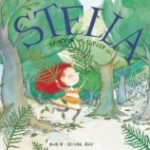 Stella, Fairy of the Forest – written & illustrated by Marie-Louise Gay
Picture book published by Groundwood Books
Marie-Louise Gay's picture books about Sam and Stella are marvelous. This, their third adventure, Stella, Fairy of the Forest
begins when Sam asks Stella about fairies. Stella knows just where to find some. She leads Sam on a pleasant walk through gorgeous meadows, across a sparkling stream and into a magical forest.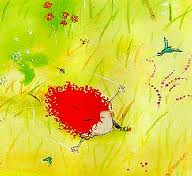 This Stella and Sam story is truly lovely especially in its treatment of the siblings' relationship. Sam, who is nervous, clearly looks up to his confident older sister and Stella is more than happy to share her knowledge of the outdoors and all things magical with her younger brother.
Ms. Gay's distinctive illustrations have a luminous quality, particularly her depictions of the delightful red-head heroine, Stella. Don't miss it!
32 pages and suitable for children aged three and up. Stella, Fairy of the Forest is well- suited to circle time and could be used as part of a preschool or kindergarten Family or Forest theme.
Marie Louise Gay's website includes printable stickers, colouring sheets, posters and bookmarks
Stella, Fairy of the Forest at Amazon.com
Stella, Fairy of the Forest at Amazon.ca