Christmas is just a couple of days away. In this post we look at two Christmas picture books that feature characters from popular picture book series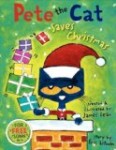 Pete the Cat Saves Christmas written by Eric Litwin and illustrated by James Dean
Christmas Picture Book published by Harper Collins Children's Books
The first Pete the Cat's picture book was (self) published in 2008. Now, there are several best-selling picture books about Pete and more will be arriving in early 2014.
In Pete the Cat Saves Christmas Santa is sick and in bed. He doesn't want to cancel Christmas so he calls Pete the Cat and asks him to take care of his Christmas Eve toy delivery. Pete decides that despite his small stature, he can take care of the monumental job. Pete climbs into his mini bus and heads for the North Pole. With the help of some very cat-like elves, Pete loads up his minibus, he hitches up Santa's reindeer and takes off.
Fans of Pete the Cat will enjoy his can-do attitude, his signature song and his enthusiasm for getting an important job done right!
Pete the Cat Saves Christmas at Amazon.com
Pete The Cat Saves Christmas at Amazon.ca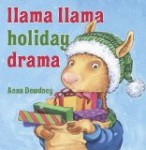 Llama Llama Holiday Drama written and illustrated by Anna Dewdney
Christmas Picture Book published by Viking a Division of Penguin Young Readers Group
Poor Llama Llama. December seems to be all about waiting. The days just don't pass quickly enough. There is shopping to do and there are choices to make. There are cookies to bake and presents to wrap. It is just too much!
To much music, too much fluff
Too much making, too much stuff!
Too much everything for Llama…"
Thankfully Mama Llama stops everything and reminds LLama that the best gift of all is spending time with someone we love.
Readers will infer that Llama Llama is excited about Christmas given the references to a December calendar and gift giving along with a tree, Santa and a Christmas stocking in the illustrations but the story itself does not refer to Christmas. In addition to Christmas references, we see a Menorah and Challah bread and Llama plays with a dreidel.
Young children and their parents will recognize that any celebration can be stress-inducing for adults and children. Llama Llama Holiday Drama is a reminder to slow things down and make lots of time for snuggles.
Llama Llama Holiday Drama at Amazon.com
Llama Llama Holiday Drama at Amazon.ca