A Springtime Treat for Toddlers, Picture Book, Five Little Ducks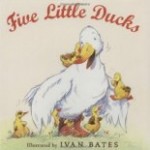 Five Little Ducks – illustrated by Ivan Bates
Published by Orchard Books an imprint of Scholastic
Perfect for celebrating Spring, Bates' lovely, gentle illustrations capture this traditional children's counting song beautifully. In addition to watching the young ducklings venture into the hills, young children will enjoy spotting a friendly beaver, a curious gull, a hungry rabbit and a grazing cow.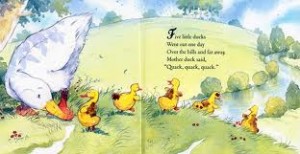 Mother Duck is filled with affection for her youngsters as they go forth, she is anxious when the ducklings are missing and overjoyed when they return.
Observant children will notice that each of the ducklings returns with a special gift for Mother Duck.
Endnotes include the music and additional verses for Five Little Ducks.
Best suited for toddlers or younger preschool-aged children
Five Little Ducks at Amazon.com
Five Little Ducks at Amazon.ca
Follow this link to our Spring and Easter theme printables for preschool and kindergarten