5 Ways to Help Your Child with Print Awareness –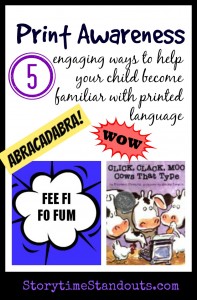 Here are five ways to help your child gain familiarity with printed language
1. Encourage your child to be the page turner when you read aloud to her.
2. Ask your child to hold the book while you enjoy it together.

3. When reading aloud, point to some of the words or trace from left to right as your read. Watch for books that use interesting fonts to express emotion – encourage your child to read exciting words (like ABRACADABRA or FEE FI FO FUM) with you.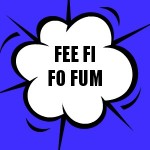 4. Explore the world of environmental print. Encourage your child to notice lists, labels, packaging, signs, menus, mail, newspapers and magazines. Help your child to notice the many ways you use print: checking instructions for medication, reading a recipe, laughing at a comic in the newspaper, assembling a toy or learning a new game.
5. Make a mistake and see if your child corrects you. Hold a book upside down or try to read it from back to front.
---
Picture books that promote print awareness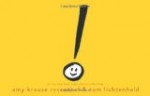 Exclamation Mark written by Amy Krouse Rosenthal and illustrated by Tom Lichtenheld
Picture Book that promotes print awareness published by Scholastic Press
Exclamation Mark is just not like anyone else. As much as he'd like to look the same, he's always a standout in a crowd.
He was confused, flummoxed, and deflated.
He even thought about running away..
Clever wordplay and fun, expressive illustrations will captivate children old enough to understand punctuation and the important role it plays in our language. Older readers will enjoy the double entendre and will celebrate Exclamation Mark's voyage of self discovery.
Why oh why is he different? He wants nothing more than to look just like the periods around him. It is only when Question Mark arrives on the scene that Exclamation Mark discovers something deep within – he discovers why and how he has an important role to play – despite his rather unique upright appearance.
An outstanding 2013 picture book, Exclamation Mark is highly recommended for readers aged five years and up.
Exclamation Mark at Amazon.com
Exclamation Mark at Amazon.ca
---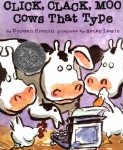 Click, Clack, Moo Cows that Type by Doreen Cronin and Betsy Lewin
Picture Book that promotes print awareness published by Simon and Schuster
Click, Clack, Moo: Cows That Type is a fun story that does a great job of introducing print awareness. The story draws the reader's attention to letters and words and one way of conveying messages. As well, Farmer Brown's body language is great to watch. The illustrations in the story encourage children to "read between the lines."
A 2001 Caldecott Honor Book, Click, Clack, Moo: Cows That Type is a terrific book for children aged three years and up.
2001 Charlotte Zolotow Award Nominee for Highly Commended Title
2002 Vermont's Picture Book Awards: Red Clover
A 2001 ALA Notable Children's Book for Younger Readers
2002 Charlotte Award (New York State Reading Association)
2001 Maryland Black-Eyed Susan Book Award for Picture Book
2001 Book Sense Book of the Year Honor Book for Children's Illustrated
Click, Clack, Moo: Cows That Type at Amazon.com
Click Clack Moo: Cows That Type at Amazon.ca
Links to four posts we think you'll find interesting