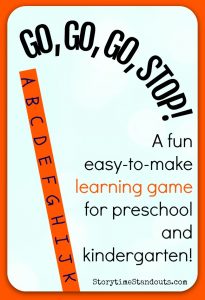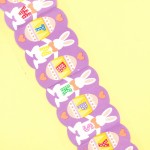 Here is a fun, easy-to-make activity for learning letters. Check out your neighbourhood dollar store for seasonal banners. The two I found are each nearly three feet long. They each have a series of Easter bunnies on them. The first one I prepared, was for children who are learning letters. I added alphabet stickers
and laminated it.
Have a child gently grip one end of the banner, close their eyes and say, "Go, go, go, STOP!" As the child says, "Go, go, go," slide the banner through their fingers. When they say, "STOP," ask them to open their eyes and read the letter on the nearest bunny. For older children, make it more difficult by asking them to read the letter and say a word that starts with it.
For children who can read, print words on the bunnies. I used the "ot" family for my bunnies and carrots banner.
Borders and trims will also work well. Here are some examples that could be cut and laminated
.
For all sorts of printable alphabets, The Alphabet Song and activities to help your child learn letters, be sure to check out our Alphabet Recognition page.
Follow this link to our Spring and Easter theme printables for preschool and kindergarten
Our early literacy printables, including our learning letters printables are in PDF format, if you don't already use Adobe Reader, you will need to use it to access the downloads.


Some of our Most Popular Alphabet Recognition Posts
Hover over the photo for a description of the activity. Click on the photo to read the full post
We invite you to follow Storytime Standouts' Alphabet Craft Board on Pinterest
Follow Storytime Standouts's board Alphabet Crafts on Pinterest.