Exploring Special Alphabet Books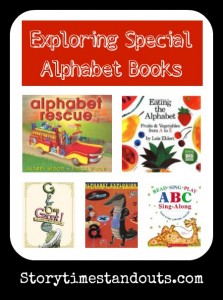 Alphabet books come in an amazing array of themes and formats. Whether your child loves rescue vehicles, solving puzzles, cooking or nonsense rhymes, there are alphabets books to explore and enjoy.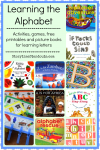 Note: For printable alphabets, The Alphabet Song and activities to help your child learn the alphabet. be sure to check out our Alphabet Recognition page and our Printable Alphabets page.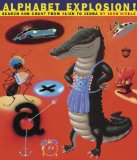 Alphabet Explosion! Search and Count from Alien to Zebra by John Nickle
Alphabet Explosion presents 26 challenging visual puzzles that will appeal to both youngsters and adults. With a full-page illustration and the number of things to 'spy' for each letter, you and your child(ren) could spend hours with this book. On the page for 'S', we are told to look for 47 things that begin with 'S'. You might expect a snake – but would you recognize 'slithering' as well? Good luck!

Alphabet Explosion!: Search and Count from Alien to Zebra at Amazon.com
Alphabet Explosion!: Search and Count from Alien to Zebra at Amazon.ca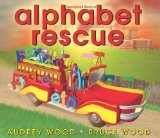 Alphabet Rescue – written by Audrey Wood, illustrated by Bruce Wood
Fans of Audrey and Bruce Wood's Alphabet Adventure and Alphabet Mystery will be delighted to know about this new concept book. The creators could not have picked a more appealing storyline than to have the 'little letters' build their own fire truck. When the 'big' fire truck breaks down, it is up to the 'little letters' to come to the rescue and put out a fire in the letter-making factory. Beautiful illustrations have so much to offer those learning the alphabet.

Alphabet Rescue at Amazon.com
Alphabet Rescue at Amazon.ca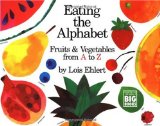 Eating the Alphabet Fruits and Vegetables from A to Z By Lois Ehlert
Here's a serving of veggies that will appeal to even the pickiest eater. Big, bold illustrations of familiar (apple) and not-so-familiar (jicama) fruits and vegetables make for a delightful alphabet book. Reading it might convince your child to sample something new and vitamin-rich, possibly the whole alphabet!

Eating the Alphabet: Fruits & Vegetables from A to Z at Amazon.com
Eating The Alphabet at Amazon.ca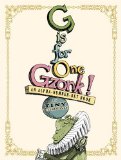 G is for One Gzonk! An Alpha-Number-Bet Book written and illustrated by Tony DiTerlizzi (a.k.a. Tiny Diterlizzi)
In the Style of Dr. Seuss, here we meet Tiny DiTerlooney. He warns us that we ought to "say good-bye to boring books where bears can bounce a ball." Instead, he uses delightful watercolor illustrations to introduce twenty-six highly original 'Creachlings.' Lots of fun – especially for older children who will relish an all-new take on the alphabet.

G Is for One Gzonk!: An Alpha-number-bet Book at Amazon.com
G Is for One Gzonk!: An Alpha-number-bet Book at Amazon.ca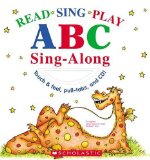 Read Sing Play ABC Sing-Along – written by Teddy Slater, illustrated by Liisa Chauncy Guida
Twenty-six sing-along songs, with mostly familiar tunes offer a fun introduction to letter sounds and rhyming. Fun illustrations (including ten touch and feel textures & four pull-tabs) together with a pleasing CD make this a great resource for families and classrooms.

Abc Sing-along at Amazon.com
ABC Sing-Along at Amazon.ca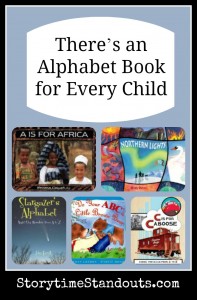 More excellent picture books you will want to check out!