b d confusion: Is it 'b' or 'd' ? 5 Ways to Help Young Readers Decide
Ways you can help children with b d confusion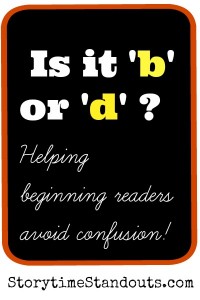 I made a presentation last night to a preschool parent group. One of the topics of discussion was how we can help children avoid reading a "b" as a "d" and vice versa. At the presentation, I was not addressing serious learning challenges like Developmental Dyslexia ( a condition / learning disability which causes difficulty with reading and writing). We were discussing ways to assist children with letter recognition and b d confusion. We talked about a few ways to help children correctly identify "d" and "b".
Method #1: Bat, Ball, Dog, Tail
One mom mentioned that in their household they used the following:
"This is the bat, and this is the ball, together they make a "b". (Visualize: l + o = b, where "l" is a bat and "o" is a ball)
"This is the dog, and this is the tail, together they make a "d". (Visualize c+ l = d, where "c" is a dog and "l" is its tail).
Method #2: Printing a 'd'
The technique involves examining how we print the letter "d". It looks much like a "c" with a "l" added to it. Using this method, we discuss the fact that c + l = d and "d" is after "c" in the alphabet.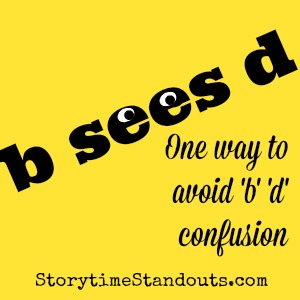 Method #3: 'b' sees 'd'
Relying on alphabetical order (and a little play on words)






Method #4: Bulldozing a b works!
If your child knows that bulldozer begins with 'b,' he can use a toy bulldozer to push a letter 'b.' Letter 'd' is not nearly as cooperative because of its shape.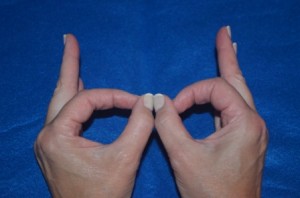 Method #5: bed
My favourite memory device is to make a "bed" with the child's fingers. Imagine making two small circles with the thumbs and forefingers, and pointing the remaining fingers upward. Push the two circles together to make a "bed" (minus the "e"). The left hand makes the "b" and the right hand makes the "d." It looks like this: "bd." "b" is at the beginning of "bed," "d" is at the end of bed.
Note, these methods will not work with very young children. With Method 3 especially, the child needs to know how to spell 'bed' in order for this device to be effective. From my perspective, with very young children, we should not worry about the occasional reversal. We can simply say, 'That is a b. It makes the /b/ sound.' With children who are starting to read, I find Method #3 to be very effective and easy to remember. I have seen children as old as seven do a quick check (underneath a desktop or tabletop) and then read a word with confidence.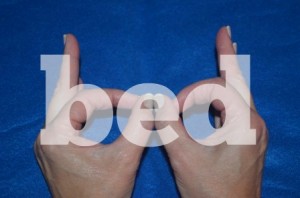 Some of our Most Popular Alphabet Recognition Posts
Hover over the photo for a description of the activity. Click on the photo to read the full post
We invite you to follow Storytime Standouts' Alphabet Recognition Board on Pinterest
Follow Storytime Standouts's board Alphabet Activities including b d confusion on Pinterest.


b and d (bed) poster from Activity Village


If you know memory devices for b c confusion, I'd love to hear from you. Please jump in with a comment.