Learning the Alphabet and Beach Ball Fun, a Great Game for Prek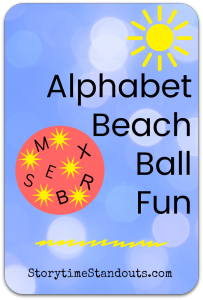 An inexpensive beach ball and a permanent marker are all you need to make this fun learning game. Inflate the beach ball and use the marker to print uppercase or lowercase letters all over the ball. Underline each letter so there is no confusion between "M" and "W" or "p" and "d." Toss the ball and have the person who catches the ball say the letter name closest to or under one hand. If the child knows the letter names, make the game trickier by asking for the letter sound or a word that begins with the letter.
Note: For printable alphabets, The Alphabet Song and activities to help your child learn the alphabet. be sure to check out our Alphabet Recognition page.