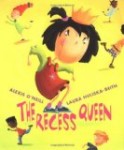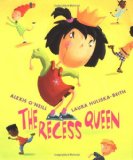 The Recess Queen written by Alexis O'Neill and illustrated by Laura Huliska-Beith
Anti bullying picture book published by Scholastic Canada
MEAN JEAN was Recess Queen and nobody said any different.
Nobody swung until Mean Jean swung.
Nobody kicked until Mean Jean kicked.
Nobody bounced until Mean Jean bounced.
Mean Jean is a playground bully. At recess, she commands all those around her. She controls the swings, the soccer ball and the basketball.
One day, a new girl arrives at school. Tiny Katie Sue is completely unaware of Mean Jean's position of authority at the playground. Katie Sue does not wait to be told what to do. She swings and she kicks and she bounces. When challenged by Mean Jean, Katie Sue asks, "How DID you get so bossy?"
Before long, there is a showdown between Mean Jean and Katie Sue. When Katie Sue pulls a jump rope from her pocket, she invites Mean Jean to skip with her.
Repetitious text, delicious wordplay and bright, energetic illustrations highlight a terrific anti-bullying book that begs to be read aloud. Recommended for children aged four and up.
Add this anti-bullying picture book to your bookshelf –
The Recess Queen at Amazon.com
The Recess Queen at Amazon.ca