Slob by Ellen Potter … not what you think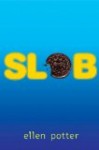 Slob by Ellen Potter
Middle grade chapter book about bullying published by Philomel
It's risky, but I like to start my school year out by reading a book to my class that I have not read. I look for a book in the right age range with topics that are current and important. This year, I started with Slob by Ellen Potter. It's about a 12 year old boy, Owen,  who is known for being the fattest kid in the school. You can easily predict, at this point, that a central theme is bullying. But there's more to it than that; Potter weaves the themes of finding yourself, teenage relationships, and heartbreak into the overarching theme of bullying.
I found that there were parts that were a bit 'technical', for lack of a better term; Owen is building a machine to view an event that happened two years ago. We don't know what and we don't know why, but we know that building this machine he calls Nemesis, is what drives him. There were times when the character was trying to stream video, capture signals, and pinpoint specific moments according to satellite images. As a read aloud, I found myself having to break these things down for my grade 5's because they couldn't re read on their own to increase their understanding.
Having said that, the author included a number of twists that I just did not expect. One of the conversations we had, as a class, was about what surprised us most; there were many things. She did a great job weaving the themes together, keeping us hooked, and connecting us to the characters. We were invested. The kids wanted a resolution for Owen. The book also taught them that sometimes the outcome we want is not what we get, but we need to learn to live with that, as Owen did.
An interesting story line was about Owen's sister. Her name is actually Caitlin but because she is part of a group called GWAB (Girls who are boys), so she is called Jeremy throughout the book. It's not entirely clear why these girls want to be boys; they dress like boys, protest, and change their names, but the issues they're fighting are not the forefront of the book. As Jeremy shows us though, it's not just about an identity crisis; it's about finding a place for yourself during those years when you feel so out of place. Added to that feeling, for Jeremy and for Owen, is the night two years ago that defines who they are right this minute.
As a teacher, the most disturbing part of the book was the bullying that occurred at the hands of Owen's PE teacher. He was a horrible person and their are some truly cringe worthy moments in the book. And yes, the students asked if teachers would ever do some of those things. While I'd like to believe that such terrible things never happen; we know they do. So what I told them was, yes, adults can be bullies too. Adults can make poor choices and bad decisions. But there's always an adult you can trust and turn to. Regardless of who is bullying you (and Owen is bullied by many), it's essential that you get help. A bully is a bully. Just because that bully may be old enough to truly know better, doesn't mean they make the right choices. Owen stood up to Mr. Wooly in the end. He should have asked for help rather than facing this alone. I hope the students in my class know that there's always someone who will stand up for them. A parent, teacher, friend…anyone; just someone who will stand next to them and have their back. Ellen Potter did a really good job of navigating the relationships of the main character, showing that sometimes the people you can rely on, are not  the ones you thought they'd be.
Lexile Level 740L
Slob at Amazon.com
Slob at Amazon.ca