Eddie Longpants – Anti Bullying Picturebook
Storytime Standouts looks at anti-bullying picture book about teasing, coping with bullies, celebrating differences and self-acceptance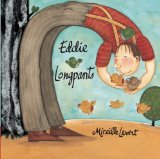 Eddie Longpants written by Mireille Levert
Anti bullying picture book published by House of Anansi Press Inc. | Groundwood Books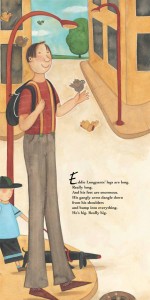 Eddie is much, much taller than his classmates and his teacher. He is far too big for his school. At recess time, he endures endless name-calling and teasing. He deals with the abuse by isolating himself, he stands near a tall tree and is visited by happy, chirping birds.
When Eddie's mom arrives for a visit with the teacher, Miss Snowpear promptly climbs onto the roof.
Miss Snowpea and Mrs. Longpants talk. They look each other straight in the eye. They say nice things. They smile big smiles. They shake hands."
The two adults model good behavior despite their differences in stature.
At recess time the following day, the teasing resumes but this time Pete makes comments about Eddie's mom and this time Miss Snowpea overhears the insults,
She feels anger rising inside her, It makes her insides growl and her toes curl up. All this because Eddie is big!
Pete knows that he is in trouble. He wants to escape so he climbs up, up, up into a very tall tree. Suddenly, he realizes what he has done and he is frightened. He needs help to get back down from the tree.
Eddie Longpants is an anti bullying picture book that is best suited to children four and up. It delivers a lovely message about acceptance and is sure to prompt a discussion about teasing and ways to deal with it.
Ms. Levert's illustrations are warm and engaging. She makes great use of each two-page spread to show us just how tall Eddie, his mom and his dad are.
Eddie Longpants at Amazon.com
Eddie Longpants at Amazon.ca