Tony Ross Anti Bullying Picture Book – Is It Because?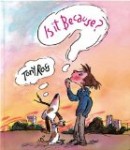 Is It Because? written and illustrated by Tony Ross
Anti bullying picture book published by Andersen Press
Is it Because? provides a refreshing and altogether different take on the anti bullying picture book. Peregrine Ffrog is a nasty bully. He leaves his victim stretched out in a mud puddle with a black eye. Peregrine's target is a boy with a fabulous imagination. He can envision all sorts of serious and not-so-serious reasons for Peregrine's horrid bullying behavior.
He asks
Is it because he's friendless, you see?
Is it because he lives in a tree?
It is because of the size of his head?
It is because he wees in his bed?
Happily, after posing questions and imagining what has led Peregrine to this behavior, his victim is left with a healthy sense of self worth, the loyalty of a pet dog and a couple of good friends.
Encouraging the reader to view the perpetrator through a different lens, Tony Ross imagines and, with humour, illustrates all sorts of reasons someone might bully. He does not make excuses for the bullying nor does he "solve" the problem. His approach, which encourages readers to ask questions and rethink assumptions, is empowering.
Fans of Tony Ross will not be disappointed with this anti bullying picture book. As well as considering the "why" of bullying, readers may gain some sympathy for the bully and may even decide the bully is a victim of sorts.
Great for kingergarten and older children.
Is it Because? at Amazon.com
Is It Because? at Amazon.ca