Anti Bullying Picture Book – The Bully Blockers Club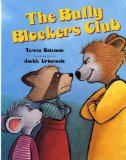 The Bully Blockers Club written by Teresa Bateman and illustrated by Jackie Urbanovic
Published by Albert Whitman & Company
Lotty Raccoon is excited to begin a new school year. She leaves her house with new shoes, new backpack and a positive outlook. Moments after she sits at her new desk, Grant Grizzly begins his taunting, "I'm Grant Grizzly and I say there's a smell, and it's coming from around you."
Lotty does not react immediately. She talks with her siblings after school. Lotty's younger brother suggests a karate chop could be the answer and her older sister suggests ignoring him. Lotty is not interested in the "karate chop" solution but she thinks ignoring Grant Grizzly might work.
The following day, Lotty ignores Grant Grizzly but unfortunately, the abuse continues. After further discussion at home, Lotty's sister suggests that Lotty try to be Grant's friend while her brother suggests joking about it. She tries both approaches without success. The next step is to get Lotty's mom and dad involved. They contact Lotty's teacher and she promises to be watchful but, whenever her back is turned, Grant continues his bullying.
Finally, after noticing that Grant only bullies when adults are not watching, Lotty arrives at a creative and very empowering solution to her problem. She enlists the help of her friends whenever Grant picks on someone.
That afternoon, when Grant grabbed Lotty's crayons, Barney said, "Hey, what are you doing?"
"Yeah," said Laurie. "Those aren't yours."
By now everyone, including Mrs. Kallberg was watching."
Grant turned red, and handed the crayons back.
The Bully Blockers Club's bold illustrations are well-suited to sharing in a group setting. The facial expressions effectively depict the emotions of the bully, the bullied and the bystanders.
After Notes include suggestions for parents and teachers including a description of the "TELL IT system." This anti bullying system suggests children should
Think before they react
Express themselves by stating how they feel
Leave the situation
Laugh
Ignore
Tell an adult
The After Notes also suggest that Lotty's decision to create a supportive group can be an effective way to curtail bullying.
The Bully Blockers Club is best suited to children aged five and up.
The Bully Blockers Club at Amazon.com
The Bully Blockers Club at Amazon.ca