JoJo the Giant faces his bullies, explores self image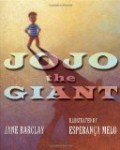 JoJo the Giant written by Jane Barclay and illustrated by Esperanca Melo
Picture book published by Tundra Books
JoJo and his mother live in an urban apartment. She works as a mail carrier and, each day after school, they walk home together. JoJo is small for his age and he would like nothing better than to grow. Once home and after his mom has had a chance to sip her tea, he asks her "How much did I grow today?"
Despite assurances from his mom, JoJo is sure that bigger is better and he longs to be taller. He drinks his milk and eats his broccoli, hoping that one or the other will do the trick.
One Saturday, while running an errand, JoJo notices a poster about an upcoming race. Wanting to win a pair of Red Rocket Racers – the ones with the silver stars on the sides, JoJo promptly signs up for the event. Before returning home, JoJo encounters the dreaded neighbourhood bullies. They refer to him as 'Yo!Yo!' and 'shrimp.'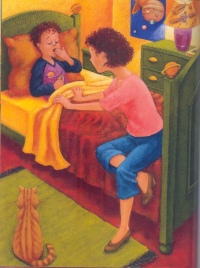 Without responding,JoJo quickly runs from the kids.
When Race Day arrives, JoJo is ready. He races well but Big Tony is faster than he is. It is not until JoJo hears the bullies shout, "Go shrimp, go! Go shrimp, go!". that he is able to overtake the larger boy and win the coveted shoes.
While JoJo the Giant does not specifically address bullying or how best to deal with bullies, reading the book could certainly lead to discussions about self image, bullying and harrasment.
JoJo the Giant at Amazon.com
JoJo the Giant at Amazon.ca